Since Holden didn't have school on Friday (snow/cold, etc.) he had to wait until YESTERDAY (Monday) to find out if he placed in the Science Fair! GUESS WHAT?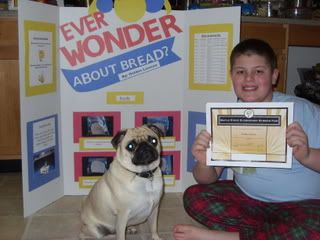 SECOND PLACE out of the entire 4th Grade!!!!!!!! WHOOHOO!
I had trouble reading the certificate, but mom said that it says "Maple Ridge Elementary Science Fair. This certificate is presented to Holden Lawson for Placing Second in the 4th Grade" and it is signed by the Principal!
Maybe Smarty-Pants Holden can teach me to read!
In addition to the honor of taking second, Holden also was awarded a $5 gift card to McDonalds! I think some ICE CREAM may be in our futures!!!!
Way to go Brother! We're all so proud of you!!!