Mommy and Daddy took me to a birthday party for Vikki (from
Pug Posse
) last night! The humans had a LOT of fun, but I was more comfortable watching the puggy antics from mom's lap!
First off...HAPPY BIRTHDAY VIKKI!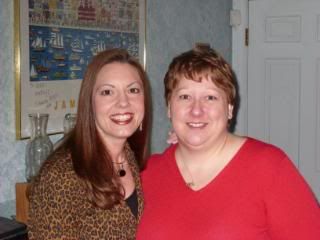 Here's mom on the left with Birthday Girl Vikki in red.
Mom made Vikki one of her famous "Are You Freakin' Kidding Me?" chocolate cakes (Holden named it because that's what he yelled when he tasted it after mom made it for the first time!)
Figures...chocolate is Puggy poison, so I didn't get any! :-(
There were TWELVE PUGS total at this party (Bernice, Ernie, Eli, Eddie, Pippin, Jasmine, Gus, Lilo, Harley, DixieBugg, Sophie and ME)! Mom couldn't get a picture of all of us together, but she did get quite a few of me looking traumatized!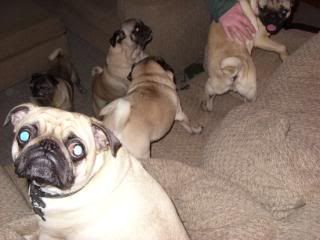 I'm saying "HOLY CRAP! Look at ALL these Pugs!!!"
Mom THINKS this is Eddie and Lilo...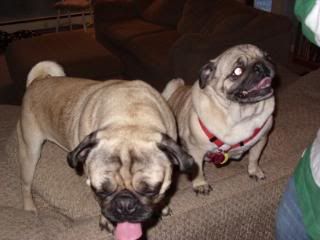 Mommy was hugging all over Gus...
Ok...can we go home now???
Daddy snuggled Harley...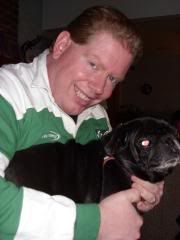 And Mom snuggled Pippin...
While I hid under the table still traumatized and pleading to go back home where I can be an ONLY PUG again!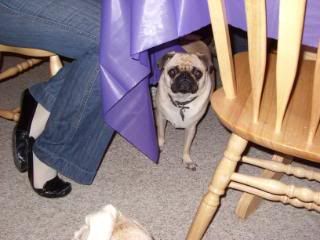 Mom told me to LIGHTEN UP and quit being a weenie...I decided to try and have some fun of my own at the party.......
Mom and Kelly fed me a cocktail weenie! (since that's what I was being!)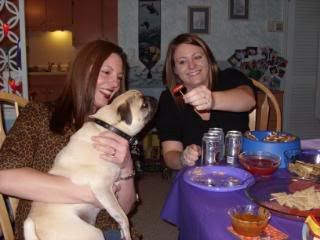 YUMMY!
Then Mr. Dennis gave out free butt scratches....
I helped judge a "twin contest" between Sophie and Bernice!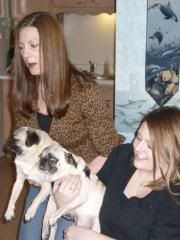 And also got to be the judge in a drinking contest......it was between...
SOPHIE the "Wineaux"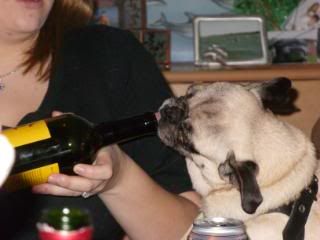 And BERNICE who was helping Daddy and Jessica chug down Diet Rite...
I have no idea who won because then it was time for Vikki to blow out her birthday candle and eat some cake!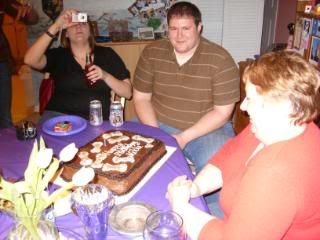 Thanks for a great time and lots of laughs last night everyone!!!
HAPPY BIRTHDAY VIKKI! Remember...you can freeze the cake!!!!!