This is a friendly reminder to all that the Westminster Kennel Club Dog Show is on USA tonight from 8-11!!!
ROOT FOR THE PUG!!!!!!!!!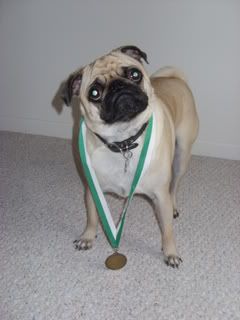 Aren't I "Best in Show" mom????
We will be flipping between the dog show, the Red Wings game and moms eleventy five recorded episodes of her boyfriend Anthony Bourdain (she hasn't watched last night's yet...so SHHHHHHH!). The TV is going to be humming at our house tonight!
Happy Tuesdy everyone!
***Mom's note*** That medal is really one of Holden's reading awards from school, but please don't tell Salinger that. He would be horribly upset to find out he's not exactly the "diva" he's built himself up to be!