We received our weekly ad from
Meijer
yesterday. For those of you outside of the midwest, it's a retail chain that sells everything from groceries to car accessories, like a Super WalMart but not as many freaks walking around. Ordinarily, the weekly ad for Meijer doesn't cause much of a ruckus around the house...until we saw THIS in yesterday's ad!!!!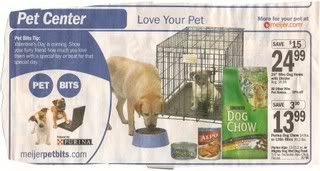 Can you SEE it??? The ad says "Love Your Pet" and there is a pic of some goofy Golden Retriever chowing down on some food while THIS poor guy is forced to watch from his cell!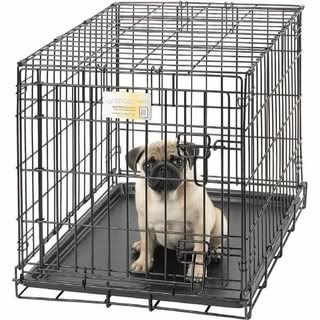 Mom says she has half a mind to send one of her famous gripe letters to Meijer headquarters to ask them WTF this poor puggy did to deserve this cruel and unusual punishment! I mean REALLY...no toys...no pillow....no blankie....just MEAN!
Now THIS is a crate, ladies, gents and pugs!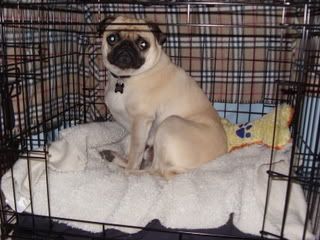 A nice cushy pillow topped with soft stuff, blankets and a nice bone pillow for my head!
What are those morons at Meijer thinking?
***MOM'S NOTE***
Sandra's comment and two emails I just got from people have caused me (mom) to clarify...Salinger hasn't "used" his crate since he was a baby...but he likes to lounge in it during the day sometimes (door open) while I'm in here working. We keep it handy for when repair people come to the house because Salinger is always under the impression that they are here to see HIM and that's not always a good thing.