Hi everyone! Yesterday, Mom and Dad got me all dressed in my red Santa shirt and Christmas tie and then I got to go for a car ride....to THIS place!
OOOHHHH BOY! I LOOOOOOVE PetSmart!!!!
Normally we walk around and visit the C*TS and birds, but THIS time I got to visit SANTA PAWS!!!!
This was a very important visit because I had to stress to Santa what a good Puggy I've been all year and how IMPORTANT it is that he bring me THIS...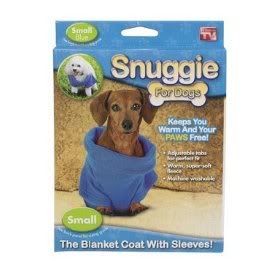 Mommy and I can be TWINS!
After I visited with Santa, we walked over to the training center where I took all of my classes. I heard a familiar voice and got ALL excited!!! It was my trainer RICK!
It was so good to see him! I gave him snuggles and a kiss and told him I'd missed him! He even gave me some yummy treats because I did a good "sit" for him.
So after all that fun stuff...I KNEW there had to be a catch!!! Mom hauled me back to the GROOMING SALON and I got a nail grinding. I don't mind the dremmel thing as much as I do clipping, so it only took THREE people to get the job done.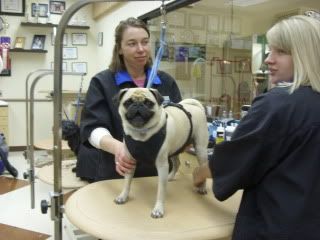 My other buddy Jason is off to the side and didn't get in the picture...but trust me...it takes THREE people to give me a pawticure!!!!
Mom gave me some cheese on the ride home and I made sure to leave lots of Pug-snooter on the car windows as a thank you.
What did all of YOU do this weekend?