Hi everyone and MERRY EARLY CHRISTMAS! We had a VERY busy weekend here at The Lazy K Ranch (haha). We had everyone together (Me, Mom, Dad, Holden, Will and Lizz) and we went to go visit Hank and Molly's family! Their daddy took this great pic of my hoomans with Hank and Molly, but I was being turdley and am not in the pic.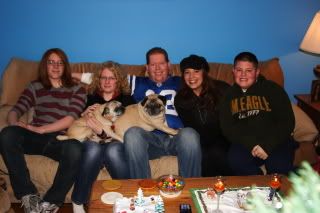 Mom forgot the farkakte camera, but jump on over to
Hank and Molly's blog
for a good recap of our vist! We'll just tell you that we went for a very special screening of a very heartwarming Christmas show...
HOWWWWWWDY HO!
Later that evening...we had EARLY Christmas with the kids and I got to open a few of MY presents too!!!!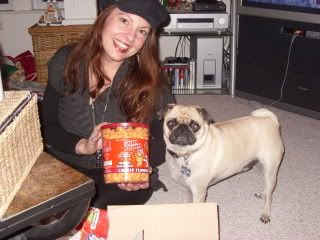 Oooohhh...PUPCORN from Mimi and Pa!
Will helped me open one in spcial Three Dog Bakery wrapping!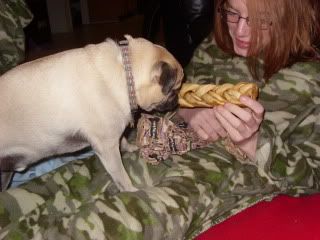 YUM! A vanilla chewy! NOM NOM NOM!
The kids all got SNUGGIE blankets from Mimi and Pa!!!!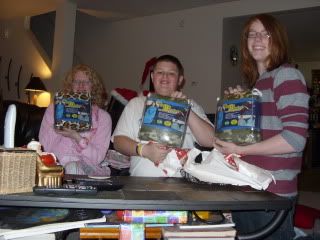 SNUGGIES? HA! Good thing I'm a PUG and don't have to worry about looking silly in a Snuggie!
Another present for me??? Lizz...help me open this!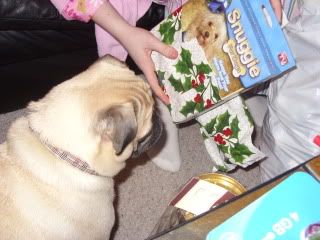 Oh no!
A Snuggie for DOGS?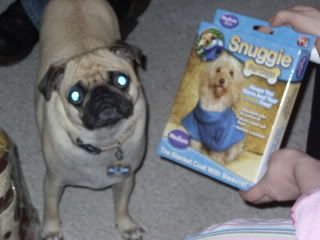 W T F ??????????????
Aw crap! I look like a cult member!!!!
I was a good boy all year for THIS??????
Oh well....I hope you're all having a great holiday season celebrating whatever makes you happy!
HOOOOWWWWDY HO!