As promised...the continuation of Christmas here with the peeps and I!
Christmas morning started off with Holden kindly waiting until 7:30 to come get us out of the big cloud bed. He took me downstairs and showed me what Santa Paws left in my stocking!!!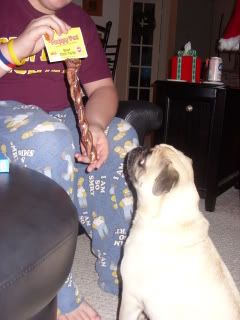 There were a LOT of presents to open! We must have all been very good this year!
Santa left THIS to "S-Dog and peeps"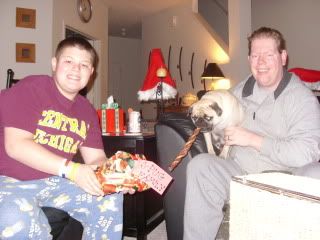 Hahahaha! Mom said that I look like
Triumph the Insult Comic Dog
with my chewie/cigar in my mouth!
What the heck is in here??? It's so HEAVY...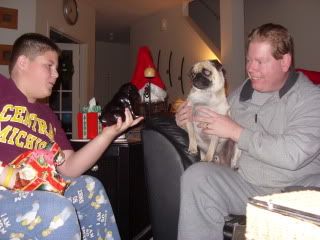 It's a black pug statue!!! He's VERY heavy so he is a bookend in our bookcase now!
I gave Holden new SOCKS since I like to chew on them (and make HOLES in them!)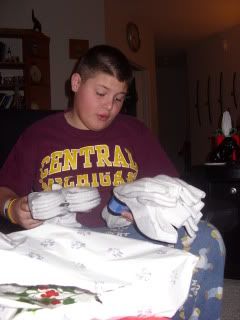 TWELVE new pair! WHOOHOO!
Check out this cool big stuffed BULLDOG that I got from Mommy and Daddy!
His name is "Beauregard". I'm not sure if he's "humpworthy" yet.
Holden had a nice surprise from mom...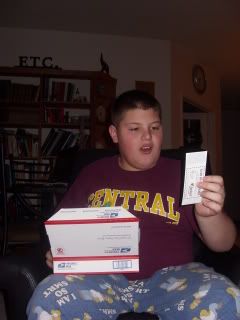 A (very hard to get!) TICKET to the COLTS GAME against the NY Jets!!! WHOOHOO! (Daddy has the other ticket...he unwrapped it for his birthday!)
We also unwrapped this sweet ornament from Mimi and Pa in AZ...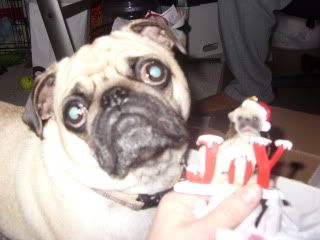 It's a little puggy on the word JOY! How appropriate!
It's been a JOY spending so much time with my peeps and friends! Everyone has time to visit and share lots of yummies. The house looks so pretty with all of the trees and lights. I think this is my favorite time of year!