Hi everyone! I hope you all had a very nice Christmas and that Santa Paws was good to ALL of you (even Hank and Pearl and all the rest of you who left "presents" of your own under the Christmas tree!)
Mom said we have "a buttload" (I think that's a LOT) of pictures to share, so we decided to post in installments to get caught up. We're starting with Christmas Eve.
TWO packages were in our mailbox, both for MEEEEE!!!! Here's mom helping me with the first one...from JANIE (our Mail lady!)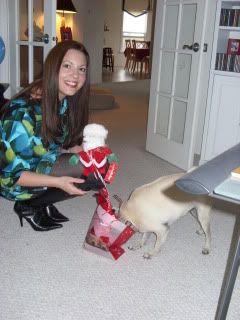 "WHAAAAAAT is it mom???"
(***Mom's note*** Yeah...my hair is a LOT darker than it was...those stupid colors on the box are never what they seem!!!!)
How sweet! Janie gave me a new Santa stuffie, some rawhide treats and a cute little picture frame with MOI in it that says TOP DOG!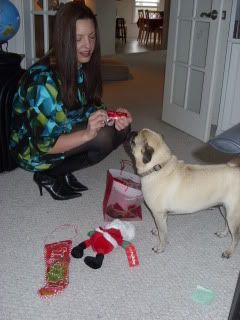 "COME ON lady! Use those opposable thumbs!!!!"
Thank you so much Janie! We love it and we love having YOU for our MailLady!
The next package was from Heather and Harry Pugalicious! (and was a TOTAL surprise!)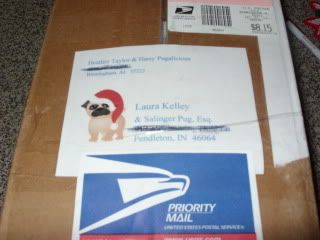 Heh heh...notice the "Salinger Pug ESQ." on the address label!
Daddy used his opposable thumbs to open it for me...
"HURRY UUUUP! What IS it???"
There was a whole BUNCH of stuff inside! Some treats and a new christmas bone stuffie for me, a funny magnet and coaster for the peeps and THIS......
A Christmas Puggie SNOWGLOBE!!!!! How PRETTY!!!!
Thank you so much Heather and Harry! You are both so sweet and we send you both a zillion hugs and kisses!
The rest of our Christmas Eve was so much fun! I hung out here with Mom, Dad, Holden and Holden's dad (Doug) and then LOOK who dropped by to visit and bring CAKE BALLS!!!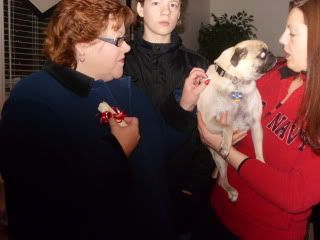 It was
Reggie and Dallas' family
(MINUS Reggie and Dallas). Julie brought me a nice chewie (and that's her son James in the picture too!).
Thanks for coming by guys!!!!
Later, Heather came by with my boyfriend
Pugsley, his sister Low Rider Lola
and a nice plate of daddy's favorite cookies (chocolate oatmeal no bakes!). We all sat nicely for treats!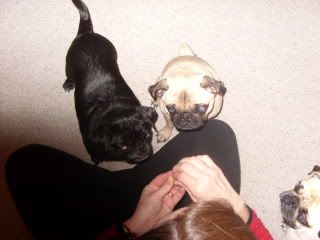 We all ran crazy and wore ourselves out after this picture!
It was getting late and according to
Norad
...Santa was entering US airspace! Holden mixed up a batch of reindeer food (oatmeal and glitter! YUM!) and sprinkled it in the driveway....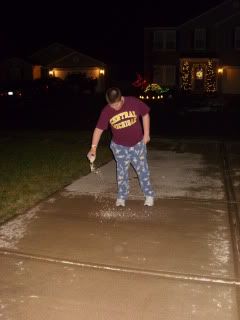 Is Santa Paws going to bring me anything? I think I've been a good Pug this year!!!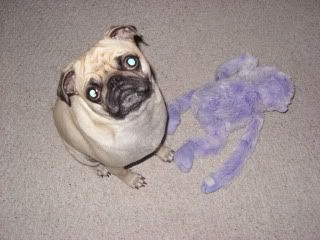 Installment TWO coming tomorrow!!!!! Stay tuned!
OH...and regarding my Christmas message in our last post...mom says to try it again. She thinks the system was just overly busy on Christmas Eve with all of the other doggies and kitties sending messages to their friends too!
Here's the link...
SALINGER'S PERSONAL CHRISTMAS GREETING