FA LA LA LA LA...LA LA LA LAAAAAAAAA! (AAAAHHH...MOM! Stop singing!!!!)
Mom, Dad and Holden have been busy lugging boxes, totes and putting up these big honkin' TREES all over the house and using all kinds of bad words when discussing outdoor lighting! I seem to remember this same type of thing happening the last TWO years right around this time too! Hmmmm.
Holden took me around to explain what each tree was for...
1. This is the big main family tree...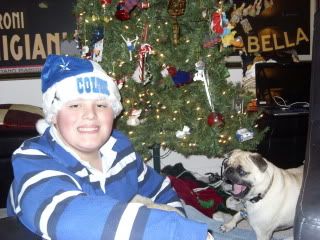 I'm saying "HOLY CRAP THIS TREE IS TAAAAAALL!"
It's NINE feet tall and FULL of ornaments that mom, dad, Holden, Will and Lizz have both had since they were tiny kids. It's quite a collection!
2. Holden and I are in front of Dad's CITADEL TREE in the study!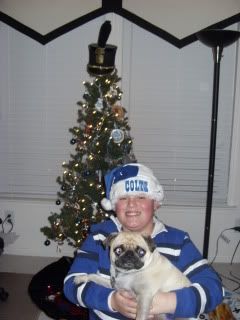 Dad went to college at
The Citadel
in South Carolina and has collected a lot of Citadel ornaments over the years. We think it's cool that his old shako is the topper!
3. Now I'm upstairs showing you Mom's LYRE TREE
When mom was in college, she was a member of
Alpha Chi Omega
sorority and their symbol is a lyre. She has collected lyre ornaments ever since then and is now up to SIXTY ONE different lyres! WOW!
4. Next, Holden took me into the kitchen to explain the newest addition to our tree collection....the RED tree!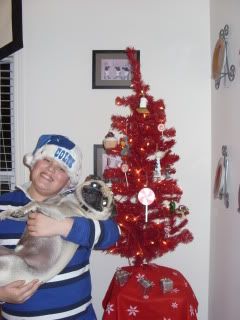 It's only 4 feet tall, so we decided to put it in the kitchen and hang all of our FOOD related ornaments on it! YUM!
(Mom says THANK YOU to dad for getting his butt out of bed the day after Christmas last year and schlepping to WalMart to pick this tree up for her for $5 because she was yammering about it ALLLL last year!)
5. This tree is kind of cool....it's ONLY used to display our CURRENT ornaments that are new this year!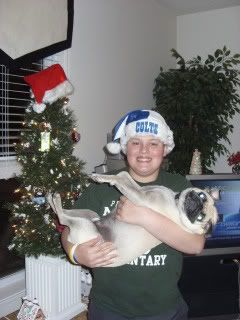 You remember our
Thanksgiving post about our family tradition after dinner
...right? Everyone gets a new ornament that somehow is special for THEM only. Next year, they'll go on the big family tree and the NEW ornaments will go on this little tree.
SO...you can see that we've REAAALLY decked the halls this year! Mom says it's to make up for the lameness of last year when the house was done up as "Christmas Lite" because she was recovering from a little nip/tuck!
(click here for a gross pic)
Ok, so OUR halls are decked....we hope you'll share YOURS with us too!!!!