Hi everyone! Look who came over to visit the other day!!!!
HANK
and
MOLLY O'MALLY!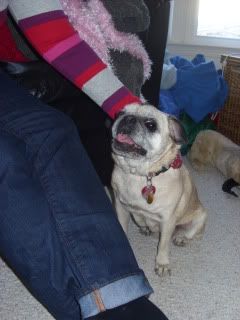 Of course Aunt Sarah came too, but she and mom just spent the whole time running their yappers.
We exchanged Christmas presents! Look what they got for me!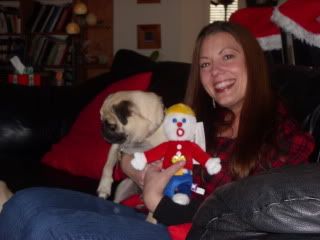 A talking Mr. Bill stuffie! (OHHH NOOOOOOOOOO!!!!)
...and my very own SPA SET! Monogrammed towels (S for Salinger) and a nice soothing candle!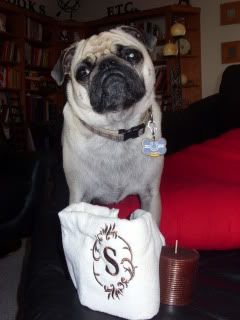 Boy...do they know me or WHAT? Perfect gift! Thanks guys!
We gave Aunt Sarah (and Scott) some truffles and then we made treats for Hank and O'Mally....gingerbread for Hank and soft giblet muffins for O'Mally. Sorry...no pics.
The moms had some lunch while we pugs stood there salivating and starving.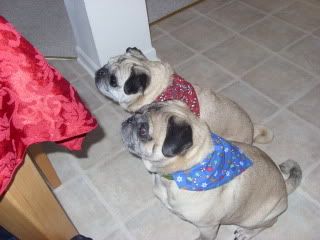 Hey lady, are you gonna finish that???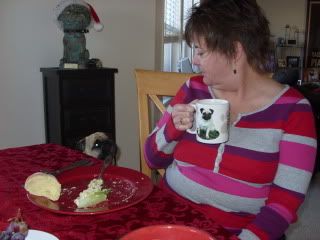 After lunch we all played together and tried to steal Christmas cookies.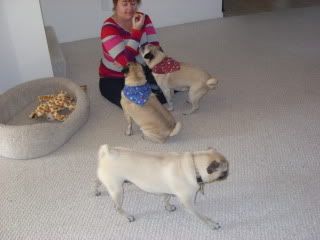 Mom got all huggy with Hank
Hank acts like a tough guy...but he's really an old softie that loves hugs and snuggles!
Thanks for coming over and for the cool gifts guys!!! Mom says we have to do it again soon!