Ok everyone...I can't believe I'm actually posting these pictures, but I'm only doing it to show the latest in the saga that is the humiliation I am forced to endure at the hands of my family.
Mom got the bright idea that I need PAJAMAS to keep me warm at night...SO she got in cahoots with
Debbie (a.k.a. Punchy
) and next thing I knew, I looked like THIS...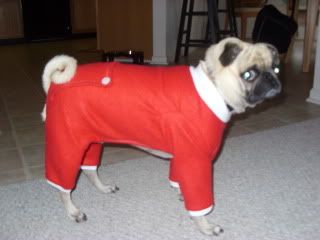 Dad calls this getup my "Union underwear" and mom is all squealy about the "door" thing in the back!
Now I ask you....WHY in the name of all that is holy should I, Salinger The Pug, endure these indignaties??? Haven't I been the perfect companion dog?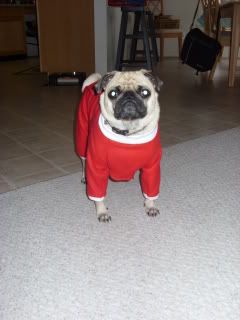 My only option is to speak with Santa Paws at PetSmart and beg him to leave COAL for my evil people.
***Mom's note*** Ok, SERIOUSLY...how CUTE does he look in these??? You can go visit
Punchy over at PugPosessed
OR go check out her
ETSY SHOP
to see about keeping your puggy warm and adorable this winter too!!!!