Ok, so it wasn't exactly "The Man"....but it WAS for
KPR (Kentuckiana Pug Rescue
)!
My buddy
Hank
and I teamed up (with our goofball moms) and worked the
Indianapolis Christmas Gift and Hobby show
yesterday to raise awareness and $$$ to help all of the KPR puggies!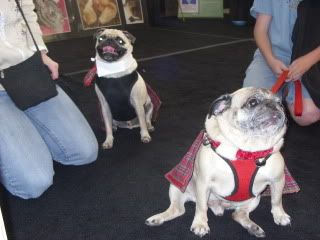 Here we are...ready for action!!! Hank is in the front and I'm in the back.
All we had to do was look adorable and wear this little apron/smock things with pockets that said "DONATION PUG" so people could "tuck a buck" as we were walking around or just sitting back near our booth.
Annie
did SUCH a nice job making those!!!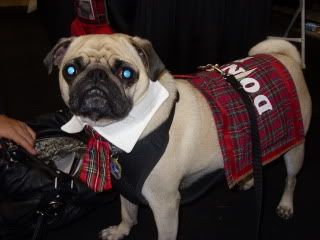 Mom put me in my plaid Christmas tie (made by
PUNCHY
!) and was surprised to see how well it matched the donation smock!
Here are our first victims...er....I mean KIND DONORS! It's
Heather and Justin (My BPF Pugsley and Lola's mom and bro!)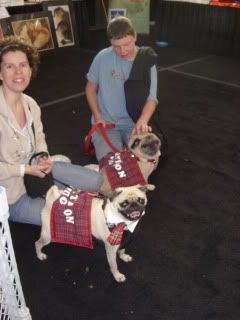 They got me started with some scratch for my pockets! THANKS guys!
Hank looked for donations (and food) in some unconventional places...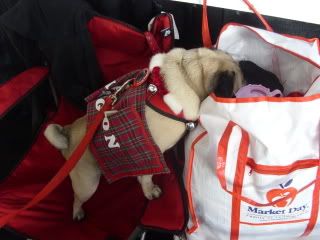 HAHAHAHAHAHAA!
I charmed the diapers off this cute little baby!
I think he's going to be a Pug fan for LIFE!
Hank and I took a little break and hung out in the PugPen so the moms could chow down...
A few people even asked if WE were up for adoption!!! Mom and Aunt Sarah were HORRIFIED at the thought and quickly directed people to the book that had the
list of adoptable Puggies.
As payment for our hard work...Mom fed Hank and I a HOT DOG from the concession stand! YUMMY!!!!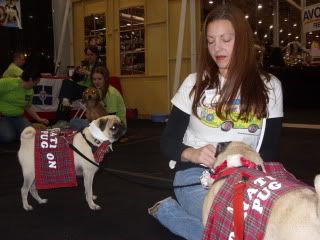 It was a big fat hot dog, so I didn't mind sharing with my pal, Hank!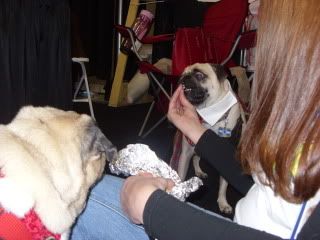 "Sorry Hank, they don't serve PBR to go with that dawg!"
Nom nom nom nom nom!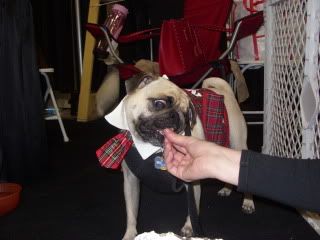 Don't worry....if you can't make it to Indy to get to the Gift and Hobby show...you can STILL help the puggies of KPR!!!
Click THIS LINK
to donate!!!