Just LOOK at my awesome stash of spent butcher bones!!!!!
I like scraping my teeth on them and hauling them upstairs and dumping them on the Big Cloud Bed in the middle of the night! (Mom's note....imagine the THUNK these suckers make at 3am when being dumped on the foot of one's bed!)
Mom says that I need to call A&E and ask to be on their show
"Hoarders"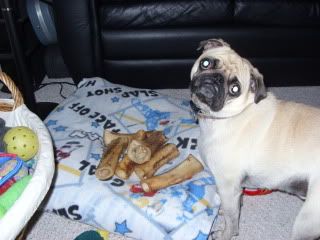 I don't know what she's all riled up about....I NEED MY BONES!!!!
Happy Friday everyone!!!!