Hi everyone! We're PugSitting for Maggie again! Unfortunately, there was a death in her family and her people had to travel to Ohio for the funeral. We're making sure Maggie is having fun while they're away! LOOK what we've been doing!
Salinger = black collar
Maggie = red collar
All that playing made us TIRED! Look at us snuggling on mom last night....
GOING.....
GOING......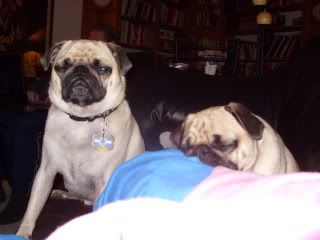 GONE!!!!!!!!!!! ZZZZZZZZZZZZZZZZZZZZZ
Happy Hump Day everyone!!!!