Hoo boy! Mom really did it this time! She and dad were laughing so hard last night they KEPT ME AWAKE waaaay past my bedtime (the NERVE!)
Mom has always prided herself on being very frugal (read: cheap). She really REALLY wanted to order this cute Tshirt but was appalled at the price ($18.99 plus shipping!).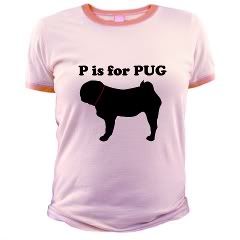 CUTE...but mom has a hard time paying that kind of money especially when it's not to benefit anything.
SO..........
She schlepped to about eleventy-teen stores looking for the perfect tshirt (WalMart $7), the printable iron on transfers (WalMart $7), The iron on lettering (Michaels $5) and then factor in another $10 or so in gas from driving all over Indy in the name of "frugality". So all that schlepping and WHAT do you get???????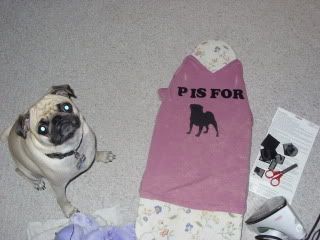 "Umm....Mom?....What's PISFOR???"
Project = FAIL
BUT...remember....mom is RESOURCEFUL! She may not have a cute P is for Pug tshirt to wear to Meetup tomorrow, but she things it might be a good idea to hang up in the bathroom at the Posse's house to collect donations for KPR when someone uses the bathroom! Get it??? PISFOR PUGS!!!!!
Get your money ready (and drink up!) Indy Bloggers!!!!! :-)
Other than wasting time and perfectly good resources, we're counting down the hours until the big arrival of Harry Pugalicious!!!! Stay tuned for LOTS of pics!
Happy FRIDAY everyone and remember.....PISFOR PUGS!!!!