Hi everyone!
Mom hauled me in to see the Vet again this morning (she swears she doesn't have
Munchausesn by Proxy
...she's just a freak about keeping me healthy). I've had these gross cysty looking things on my chin that won't go away and one ruptured and BLED last night which put her RIGHT over the edge!
LOOK...(now look away...I'm HIDEOUS!)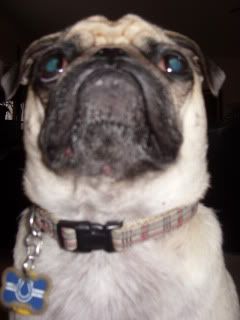 Dr. Graves and one of my favorite techs Lisa both checked me out and said that it's just some folliculitis that has developed a staph infection. I don't have mast cell tumors or anything horrible (WHEW!). Dr. Graves gave me a LASER TREATMENT to kill the bacteria deep down in my chin to help clear up my infection. Check me out!!!
Cool-breeze chillin' with the Pug!!!!
Mom said I was lucky and even told Dr. Graves that she'd volunteer to be a guinea pig to see if the laser would do anything for crow's feet around human eyes...we'll see how that goes.
I have to take antibiotics for 10 days and I have some special medicated wipes for my chin to help clear up the yuckiness. Mom got me some PEGETABLES to make up for the torture.
Mmmm...Pegetables!!!
On a completely different note...we want to direct you over to see our friend
Penny and her awesome mom Dana
. Penny is a very fabulous, beefy and SEXY Pug who has very suddenly lost her eyesight due to something called SARD (Sudden Acquired Retinal Degeneration). We are thankful to learn that she doesn't have any underlying conditions (like cancer or a tumor) that could have caused this. We know that Penny loves her whippy cream, so here is a HUGE can of it just for her....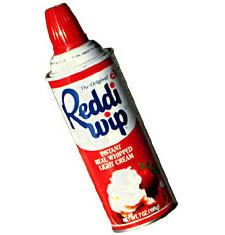 Better make it the LIGHT variety...Penny's mom said that her doc said she's a little TOO beefy and sexy ;-)
Happy Tuesday everyone! We hope everyone is healthy and gearing up for Turkey Day!