BOO everyone!!!! I hope you all had a fun Halloween and got a lot of good loot trick or treating last night!
Check me out in my costume!!!
I'm DR. SALINGER!!!
I even had my own puggy STETHOSCOPE!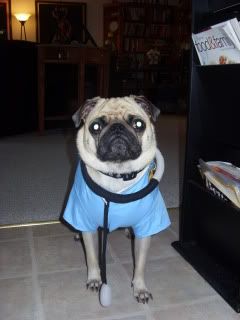 It came with one of the bouffant surgical caps, which I would NOT wear. NOOOOOOOO HAT!!!!
Mom and I were kind of a "set" because she was MY PATIENT (and evidently I'm not a good doctor from the looks of her!)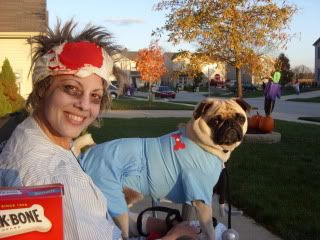 We went visiting some of our favorite people....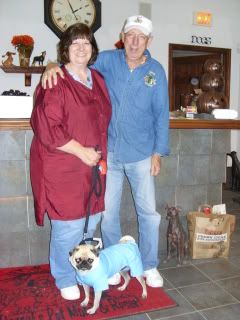 It's Gail and Lloyd from
Little Rascal's Pet Motel
! I figured I'd start out my reign as the 2009 Pet of the Year by thanking them again!
We went to visit my PugBrother Bert and PugMommy Gertie! Look at Bert all snuggled up to mom!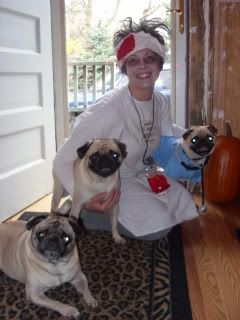 Holden had a few buddies over for trick or treating and then a fun sleepover!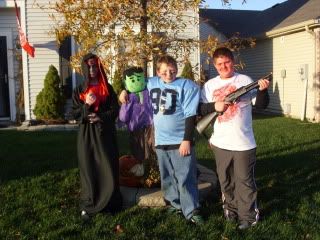 Justin is a spooky dead thing, Joe is a football player and Holden is a derranged psycho killer (last minute costume change...he was going to be a chef but maybe next year).
Here is Daddy as the Joker from the Dark Knight along with our neighbor India who is dressed as the same thing! Two Jokers!
"WHYYYYY SSSSSSO SSSSSSSERIOUS????"
Mom, Dad and I stayed here and handed out candy to all the 'hood kids...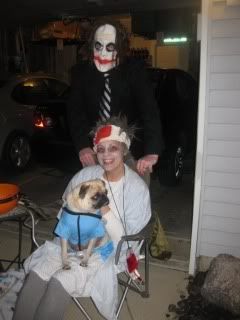 while Holden and his buddies trick or treated with Doug (Holden's dad). They got a TON of candy!
Just LOOK at all this!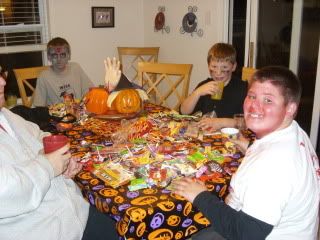 The boys sat for almost two hours negotiating trades with their candy! I think they had a great time!
Hope everyone out there in bloggerland had a SPOOKTACULAR Halloween too!