(Cue violin music....)
Mom has informed me that I am a "Hot Mess" right now....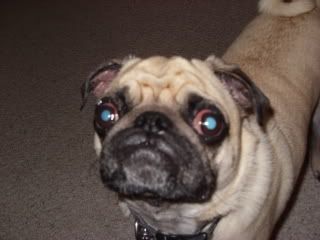 Ugh...look away....I'm HIDEOUS!
I was at the vet on Wednesday for an allergy shot and for this yucky ear infection I have in my right ear (look...you can SEE how red and pathetic it is!). THEN...over the weekend, my eyes turned red and were extra boogery. NOW I have a sinus infection with conjunctivitis! Dr. Graves said I look like I'm HUNGOVER!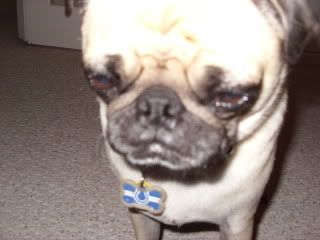 Our kitchen counter looks like the warehouse for 1-800-PET-MEDS and mom says that trying to get all these drops in me is like trying to give a cat a perm.
Ugh...I wish I felt as good as THIS guy does!!!
SO...let the Pity Party begin! I'm going to spend all day moping and looking pathetic here in Daddy's chair in case anyone is looking for me.