Hi everyone! Mom says to tell you she's sorry that we haven't been very bloggy the last few days. She's been busy with work and football mom duties and taking care of ME and a bajillion other things we won't bore you with. I'm doing a LOT better and mom is giving me my drops as instructed, so I'll be ready for some new pics this weekend...BUT...we wanted to share some pics of the fun we had LAST Friday! Holden didn't have school (Teacher Development Day or something)so we got in the car....
...and went to
MOUNDS PARK
to hit the trails! YAY! I LOVE Mounds Park ESPECIALLY this time of year when the leaves are just starting to change! Check out this COOL picture that Holden took of the White River! Doesn't it look like a mirror?
Here are Holden and I on the trail!
There are a LOT of cool things to see and sniff at Mounds Park...
Here are mom and I posed with the "Knee Tree" (Holden thinks it looks like a big knee)
I chased a chipmunk up a big hill, but lost him!
Here is a picture of me with one of the actual mounds!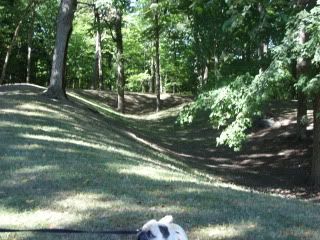 These mounds are just big hills that are believed to be built by the Adenma and Hopewell people somewhere around 150 BC (which we can't even wrap our heads around in DOG years!). They were used for religious ceremonies and to keep track of the seasons, stars and moon. Very cool...kind of like a Pug calendar before they were invented!
Oooohh...guess where I am NOW?
In the log canoe with Holden!!!!
Mom had to have a turn too...
Awwww....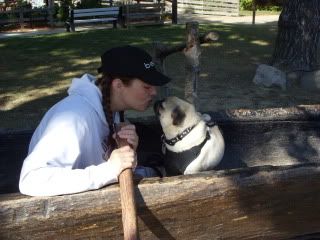 On the way home, mom stopped off at this real estate office so Holden could pose for a picture! HAHAHAHAA!
Happy Friday everyone! I hope your weekends bring fun adventures too!!!!