We're taking a lesson from Holden's school and calling today "Patriotic Day".
Holden's school has turned this day into a day of honor and remembrance and ends the day with a "silent dismissal" which is led out by teachers carrying American flags.
So handsome!
Even though I'm a VERY patriotic Pug, I don't function well in the mornings....so this flag idea for me wasn't working well...
Here I am posed with Holden and Maya (our friend that lives across the street). I was looking at the gorgeous sunrise and watching for the Evil Cheesewagon.
Happy Friday everyone and HAPPY PATRIOTIC DAY! Mom has vowed to use her powers for good today and I have agreed to join her by throwing up only on blankets instead of the carpet!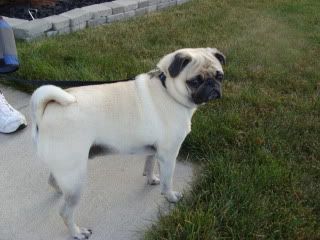 We ALSO want to wish a VERY HAPPY BIRTHDAY to Great Grandpa Conrad!!! He's turning 93 today!!! We love you Great Grandpa (even if you DO believe that dogs only belong on FARMS!)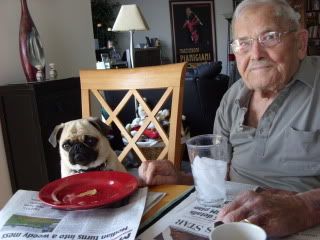 Happy Birthday Great Grandpa!!!!!