I'd like to thank the academy (ok...
Murphy Dogg
and
Scout & Freyja
and
Lily & Benson
) for my newest awards!
First up, is a nice award from
Lily and Benson the Frenchies
!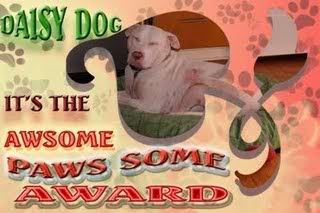 Apparently, I'm awesome! WHOOHOO! Merci Beaucoup Lily and Benson! Back atcha mes amis!
Mom is a lame-o and is going to leave this award for anyone that hasn't been tagged yet. You want it? Baaaby you got it!
Next up....I am the very proud winner of the "OOOPS I ATE IT" award! I graciously accept this from both
Murphy Dogg
and
Scout & Freyja
.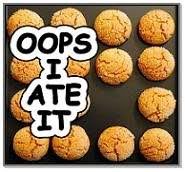 Here are the rules for accepting this...
When accepting this award, you must blog about the food you have stolen when your humans were not watching…If you have never stolen any food, you must be a really good pup!! You can accept this yummy tray of cookies as your reward! Next add the logo of this award to your Blog (optional), then nominate at least 5 other furry blogs and let them know by leaving a message on their Blogs…
(our 5 pics are at the end of this post).
NOW...mom is the official "Food Nazi" around here (among other things) so she keeps most of the eatables put away where I can't get them. I've been known to stand and look pathetic until someone feeds me something, but let's tie a napkin around my neck as I take you on a noshing journey you won't soon forget!
Now I've been known to eat dryer sheets, kleenex, paper, Legos, socks and even paper plates...and other assorted non food items...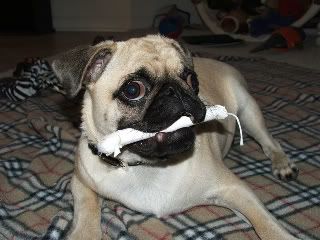 (yeah, we know...this is an OLD pic, but it makes mom laugh every time she sees it!)
But...my FAAAAAAAAVORITE item to steal and chew on for HOURS has to be any form of THESE....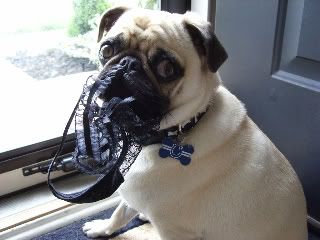 Doesn't matter WHO might be watching....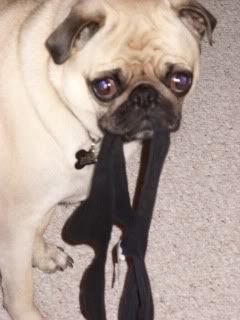 Doesn't matter WHAT kind or color (as long as they're MOM'S!)....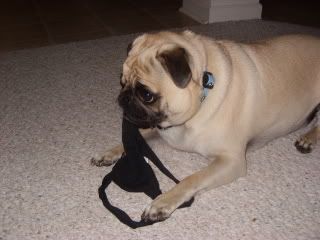 Day or night....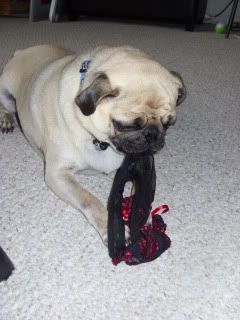 New or old....
Doesn't matter...as long as I get them!!!! I don't care how or if I get yelled at...I'm OBESSSED!
As you can see...sometimes I get a little TOO wrapped up in my favorite hobby.
SO...we are happy to pass this award on to some of our NEW favorite bloggers (be sure to stop by and say HI if you haven't already met these awesome pups!)
Oakley and Swisher
Paco
Arlo
Brutus and Yoda
Dallas and Reggie
Of course we would love for ALL of you to play along...so feel free to take this award for yourselves if you're reading this and have fun with it!
Happy Hump Day everyone...and BON APPETIT!!!!