Hi everyone! With the economy in the shape it's in, Mom informed me that I need to start earning some scratch to help pay my share of the toy/treat/kibble/vet bills around here. I thought about what I could do (since being cute will only get one so far in this world!) and I GOT IT. I'm starting my own COLLECTION AND REPO AGENCY!
Click here to read the post that took place back in January
when Dr. Holden and Nurse mom had a Stuffie Clinic and fixed up Nipsy the one eyed/one nippled purple monkey. Remember how messed up that guy was???? WELL....that slacker never paid his bill! Time for a little bit of Pug Justice!
I located Mr. Nipsy and started off by giving him a hug because he clearly has let himself go since we last saw him...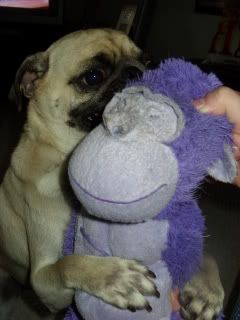 The guy has NO face left...missing both eyes and a chewed up nose, but still had that same smug expression.
BUT...business is business....so I whispered to him in his ear...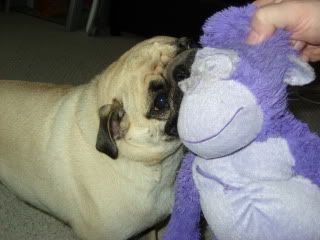 "Pssst...forget something? Like PAYING UP???"
He didn't say anything, but kept giving me that dumb blank look, so I decided to rough him up a little....
You gotta be tough with these slacker types
He STILL wouldn't pay up, so I decided to give him the "Resevoir Dogs/Michael Madesen" special treatment...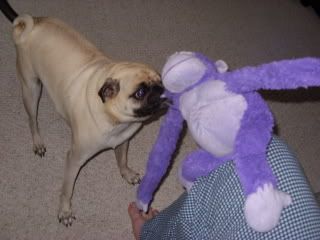 "How's that ear feel? Can you hear me NOW?"
STILL nothing...so I decided that a little "arm reposession" was in order...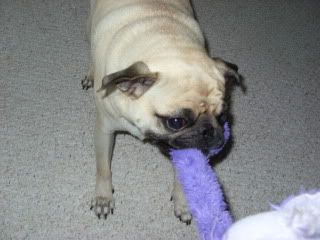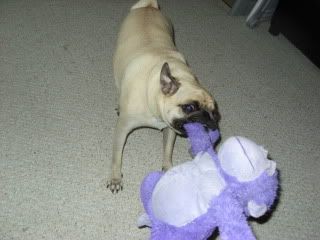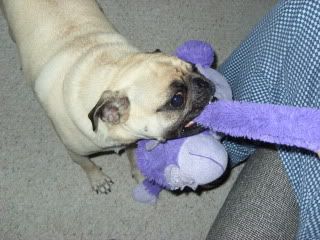 What are YOU lookin' at???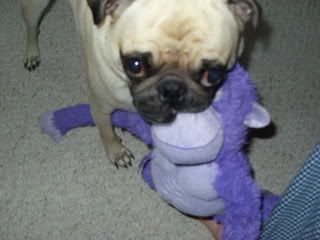 What's the problem? You don't pay your car payment, you get the REPO MAN. This clown didn't pay for his stuffie repairs, so I'm the REPO PUG!
OK....Who's next? If you have a repo/collection job that needs to be done FAST...give me a yell. Salinger the Pug's Collection/Repo service! I'll either collect your money OR repo the property in question. Reasonable rates and references available upon request!