PAGING DR. HOLDEN TO THE STUFFIE E.R. STAT!!!!
Dr. Holden...we have an emergency with two favorite stuffies! Can they be saved?
Victim #1.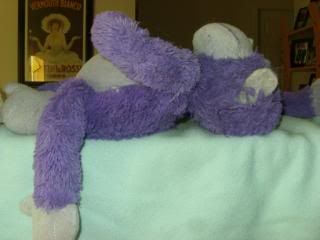 Victim #1. "Nipsey" Male Purple Monkey with one eye and one nipple (the matching eye and nipple are MIA and assumed to have been EATEN by one Salinger The Pug), is suffering a major headwound behind the left ear.
Victim #2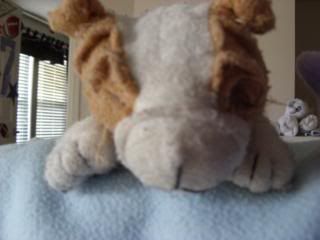 Victim #2. "Spike" Male Bulldog with NO eyes (again, both eyes assumed to have been EATEN by Salinger The Pug) also suffering from major stuffing loss from each eye socket.
Dr. Holden examines the victims with his trusty reflex hammer (hey...HE'S the doctor!)...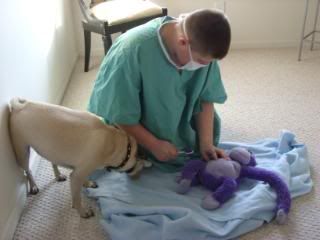 Dr. Holden has ordered several rounds of stitches for both victims and says they will be fine. Nurse Mom gave each patient several stitches and both are fully recovered!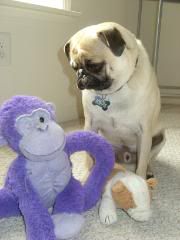 Salinger was advised not to eat any more body parts off of his friends, but we doubt he will take this under advisement.
THANK YOU DOCTOR HOLDEN! You saved the day!!!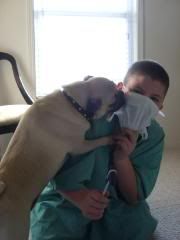 ***Mom's note*** I feel I must add that we DISCOVERED these lacerations on the 2 victims after Salinger was spotted doing the "butt drag" around the backyard. Upon further inspection, he required MANUAL EXTRACTION of a very LOOOOONG piece of stuffing/cotton from his posterior. Nuff said. ENJOY YOUR LUNCH EVERYONE!!!! :-)