I got to go on a road trip to Dayton, OH with Mommy and Holden on Friday afternoon! Holden took this picture of me...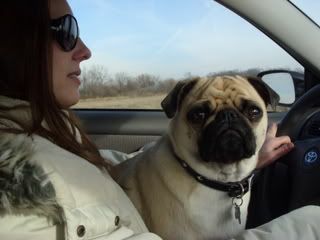 Today (Sunday), Daddy is flying on an airplane to Las Vegas for a long, boring, tedious work conference all week (yeah, we don't feel sorry for him either!). I just emailed the above picture to him with the following note:
****************
Hi Daddy!
If you win lots of money in Vegas, will you buy me my own car? I'm a VERY good driver!
I love you!
Salinger
*****************
Paws crossed! I'll let you know what he says!
**UPDATE**
Here is daddy's reply to my note yesterday! Let's all wish him luck!
"Daddy's only won a paltry six bucks so far, but the week is young. If I do hit it big, I'll let YOU be my chaffeur!!!! I can tell you handle driving like a Secret Service agent!!!!
I love you!"
***************
Put it all on RED NINE daddy!!!!