Hi everyone! I have a LOT of pics from our monthly meetup on Saturday, but mom and I had a long "editors meeting" and we chose the best of the best to share here with you. The weather was PERFECT on Saturday morning, sunny and in the low 70's and just right for pugs!
First off...here I am with Sarah (
Hank and Molly's
mom).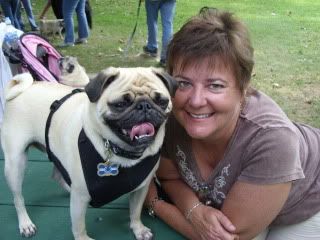 I've been rather anti-social around her the last few times I've seen her and I showed her some love because I didn't want to give her some kind of complex.
Daddy and
Dixie Bugg
Here's mom trying to pose me with our friends/neighbors
Dallas Clark and Reggie Wayne
(get it Colts fans? ;-)
It didn't work and mom fell on her butt as soon as this pic was snapped! HAHA!
She picked up
Dallas Clark
to get a close up of his cute face...
He's a PUG-ZU (part Pug, part ShihTzu!)
Here I am posing with a new friend...HARRY!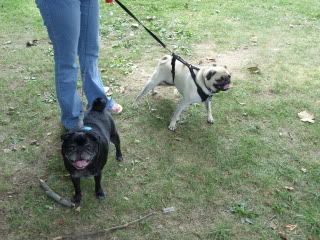 His middle name wasn't Pugalicious like our blogger buddy
Harry Pugalicious
, but we wanted to get a pic for him so he can see his Indy Name Twin!
Hi Harry!
Here's another feeble attempt at the PugMoms trying to pose us...
That's mom and I with Cindy, Yoda and Brutus (from
The Pugs Strike Back
)
Of course mom had to get her pic with her (unofficial) favorite member of
The Pug Posse
...PIPPIN!!!
Pippin's mom said that she had to tighten his harness a bit, so he's losing a bit of his "fluffiness", but he's still uber-snuggly!
Here I am taking a break with Daddy....
He was making his bulldog tattoo bark at me. Hahahaha!
Silly Daddy!
Here are Hank and Molly O'Mally (from
I Tell You What
)
Molly is doing MUCH better after her bladder surgery last month!
Here's
Kelly J
. with Harles
We understand Harles was being a bit "bitey face", so he was sitting in "Puggy time-out"
Here's a zoom out shot of some of the moms just hanging out and laughing (they do a LOT of that at our Meetups!)
That's me with mom and then
Cindy
in the front and Sarah in the back with
Hank and Molly
.
Speaking of Hank.....he moved to the other side of the table and PLOPPED down and HALF OF HIS BUTT wasn't even on the table!!!
Jess (Lilo's mom
) caught him and held his butt for him so he wouldn't fall off!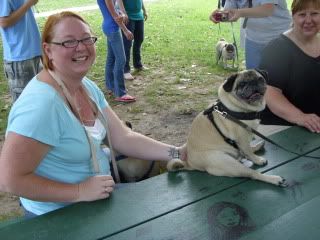 Jess
was also nice enough to do the same for mom when her clutzy butt almost fell off the picnic table too!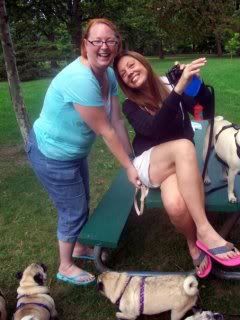 Thanks Jess! You saved us a trip to the ER! Hahahaha!
Daddy was giving out yummy treats to anyPug that asked for one...
I sat up on the table and made sure the whole treat giving operation remained calm and orderly. You know how starving Pugs are!
Here's the obligatory Indy Bloggers shot!!!! We were missing a few, but the others were with us in spirit!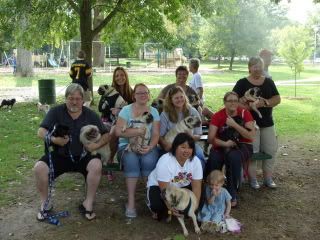 Down in the very front is Jami who writes for
Apollo
2nd row is
Bill (sitting in for Julie) who writes for
Reggie Wayne and Dallas Clark
Jessica who writes for
Lilo
Cindy who writes for
Brutus and Yoda
Kelly who writes for
Sophie, Dixie Bugg and Harles
Back row is
MY mom (who writes for ME...Salinger)
Sarah who writes for
Hank and Molly
Vikki who writes for
The Pug Posse
(Bernice, Jasmine, Pippin, Eli, Ernie, Eddie and Gus)
As ALWAYS...so great to see all of you!
Happy Labor Day everyone! We hope you celebrate this day PugStyle by doing NO labor at all!!!