Hi there! I am sharing my house with my PugMom (Gertie) and brother (Bert) today! They came over last night and we're all going to the
Doggie Hotel
today while our humans are all on vacation! All 3 of us are going to stay in the
Teddy Bear VID suite
! It's my favorite room there (the
Safari Suite
is my other fave!).
Here we are last night...ready for a walk!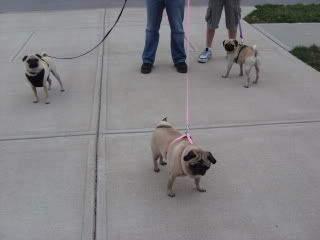 Here is a close up of my pretty mommy, Gertie!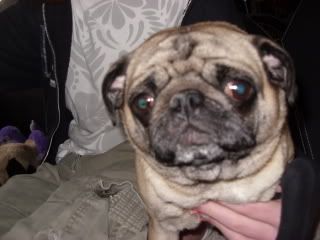 She is so sweet!
This is my brother Bert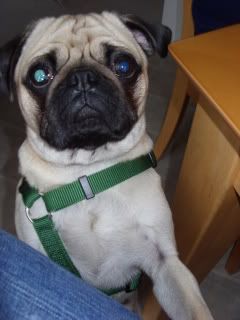 He's "not right". He smashed his face into a jetski trailer hitch when he was a puppy and he's been as dumb as a bag of hammers ever since. Poor thing.
Of course you all know MOI (Salinger)...
Listen up Pugs....I'm king of this castle...capisce?
We all took turns "pugging" everyone last night! I bet some of you didn't know that PUG is also a VERB did you.......allow me to explain....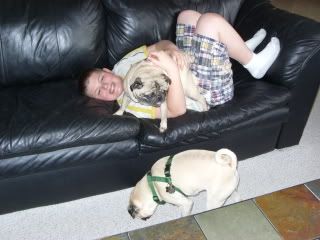 Holden=pugged!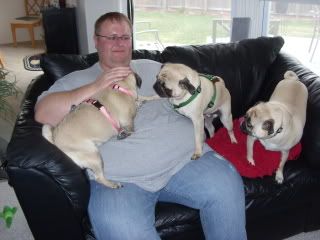 Holden's dad (Doug)= pugged!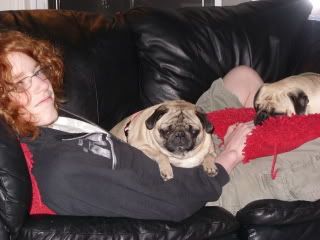 Brother Will = pugged!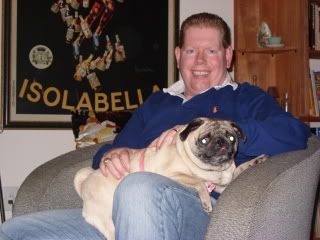 Daddy = pugged (although this pic just shows him as being GertiePugged)
Mommy = couch pugged...
AND kissed!
We leave you with a cute picture of Bert and I this morning having our breakfast.
Mom gets all wigged out with "puggy butt" pics. She's sick and wrong.
Mom is going to take pics of us in our VID (Very Important Dog) suite at Little Rascals later!!!! Stay tuned!