TOP O' THE MORNIN' TO YA! Happy St. Paddy's Day to everyone!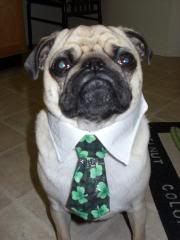 I, Salinger Jack O'Kelley-Lawson am missing my daddy terribly today! Mom says that St. Patrick's Day is "HIS" holiday but he's stuck in some stuffy conference room in Orlando right now listening to boring people all week! Normally he would be dancing around all silly-like and talking like the Lucky Charms Man all day....so we dedicate this post to HIM!
(Hmmm...mommy never realized just how much Daddy and Lucky look alike!!!...Weird!)
FIRST off...here is the "Kelley" family crest. Daddy did a lot of research about this and even has a nice one that we need to have framed.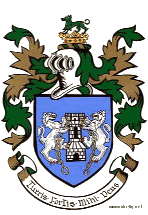 This is me posing with a cool shamrock plate that we have on our counter in the kitchen. Mimi gave this to us!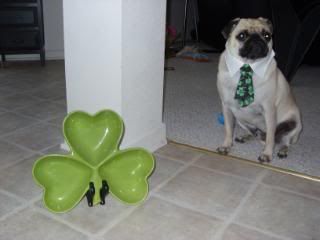 Here is another cool plate from Mimi. Mom likes to serve fancy things on it.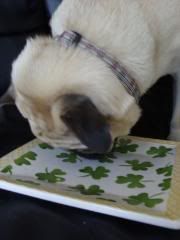 She didn't put anything fancy on it today for me. Bummer.
We have a cool Guinness sign in our kitchen. Mommy says it's one of the yummiest beverages on the planet...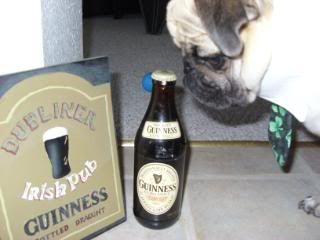 She says "NOT FOR PUGGIES" so I guess I have to trust her on this.
I AM allowed to sit on Daddy's Guinness pajama bottoms though!
SO soft!
Mommy is going to make these yummy Irish Bangers for Daddy for dinner when he gets back from his trip!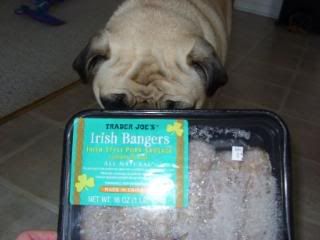 They're tucked safely in the freezer for now!
I'm all wound up waiting for Daddy to get home! HAHAHAHA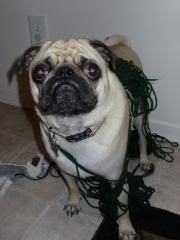 Can you tell? Sorry I stole your green yarn, Mommy!
Happy St. Patrick's Day everyone! We hope you have a great day whether you're Irish or not!!!!