Hey everyone! Mom (nervous mother she is) took me to see Dr. Graves the other day because I have a little bumpy thing above my left eye. Turns out it's no big whoop and he said it was a "sty in the eye" and gave me some medicine and it's already just about gone. BUT...yesterday I got this in the mail!!!
Dr. Graves and his whole office sent me a GET WELL CARD!
It was nice, but didn't taste very good.
My butcher bone was MUCH yummier!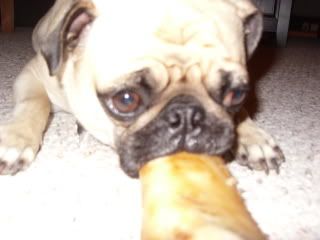 Nom nom nom nom!