We had so much fun at the
Kentuckiana Pug Rescue
event here in Indy yesterday called March In The Pugs!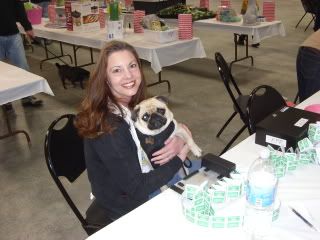 Mom and I sold raffle tickets with Pugsley and Heather and we hope KPR made a wad of cash to help out our puggy friends that need it!
We don't have any kind of creative story to tell, so we're just going to post pics from our fun day! Enjoy!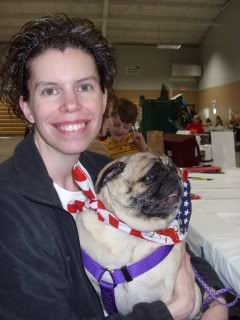 Here is Heather from "
Say It, Don't Spray It!"
with
Pippin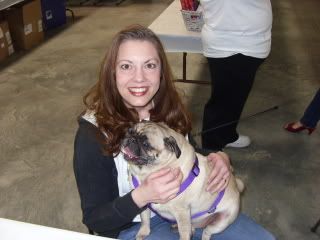 Mom with Pippin
Here is Lilo, the retired Hooters girl and the NEWEST INDY BLOGGER!!! Please go check out her brand spankin' new blog,
Tales of the Great Rock Eater
!!! Her mom and dad Jessica and Ryan are very cool!
This Bulldog named Reggie came to the event with a PUG COSTUME on! HAHAHA!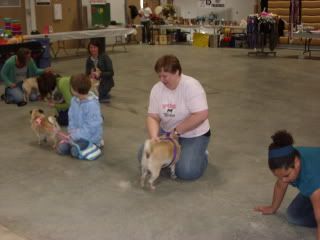 Pippin
and his mom Vikki won the shedding contest PAWS DOWN! Look at that pile of fur!!!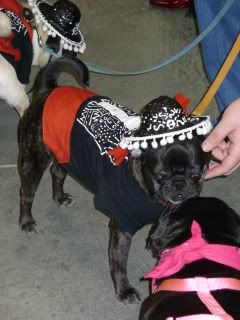 Sir Harles
getting ready for his turn in the costume contest (Dixie Bugg and Sophie were elsewhere...probably being glamorous for the other paparazzi)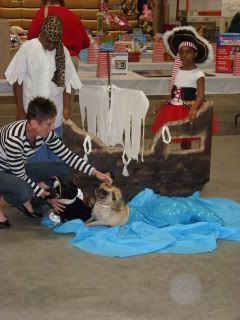 This PIRATE FAMILY tied with Pugs and Bugg for first place in the group costume contest!!!! It's hard to see, but the little pugs were dressed as a mermaid and a pirate!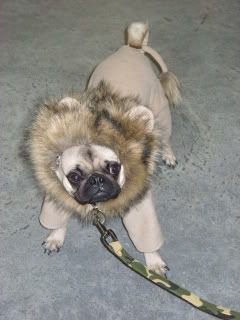 Pugsley
was the cutest lion ever!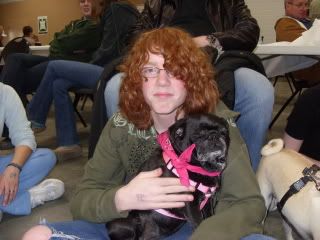 Here is my Will with
Jasmine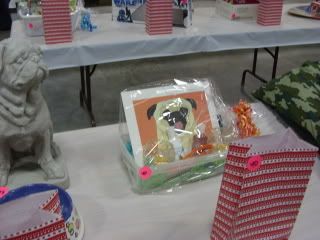 Melissa and Emmitt
were so generous and donated a few of their Pug prints to be included in the raffe! Here are one of them waiting for their new owner! Mom noticed the bags holding the raffle tickets for those baskets with Melissa's prints were VERY full!! THANK YOU MELISSA AND EMMITT!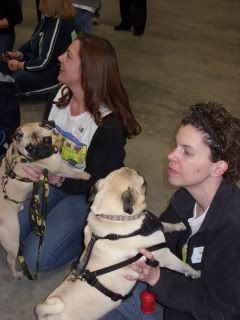 I think the highlight of the day was probably the KISSING CONTEST! Mom and Heather decided to trade Pugs since
Pugsley
and I are "kissier" with people other than our own moms.....Here we are getting ready..........SET........KISS!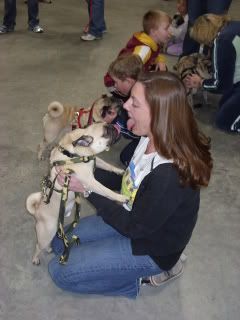 Mom said she really doesn't want to talk about what happened here.........(LOL!) She said she got carried away in the spirit of the competition.
Mom thinks that
Eli and Vikki from Pug Posse
took first...but she was too traumatized to hear the announcer clearly.
BUT...mom and
Pugsley
won THIRD place and a cool prize bag!
Ummmm...ok Pugsley...the competition is over......time to shut it down!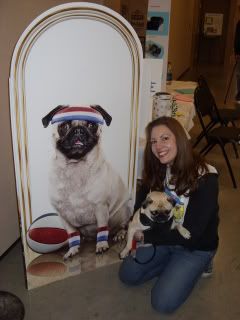 We had such a fun day and were so happy to help with such a great cause! We can't wait for the next one!!!