Happy Hump Day everyone (a.k.a. EVERY day to me! :-)
Mom has been swamped with work lately, so she's been slacking BIG TIME with her blogging duties for me. She apologized and then rubbed my tummy, so I can't stay mad at her.
FIRST off...THANK YOU to everyone for all the nice birthday wishes for Holden!
Holden called this my "birthday suit" but then quickly corrected himself!
He turned 10 on Sunday and we had a WHIRLWIND birthday weekend for him! Pug meetup, black light putt putt, laser tag, lots of arcade games, bumper cars, bowling, cake, and PRESENTS!!!!
He got a lot of good loot, and mom made a donation to
Kentuckiana Pug Rescue
for "Teddy" in Holden's name!
Here is Holden and mom and Holden's much anticipated "
Croquembouche
" that he wanted instead of a birthday cake this year! It's just a fancy schmancy French term for "big pile o' cream puffs"
Make a wish!!!
So after all the birthday festivities...Monday was a BEAUTIFUL spring day! Mom and Holden took me for a walk and we wanted to show mom's tulips coming up!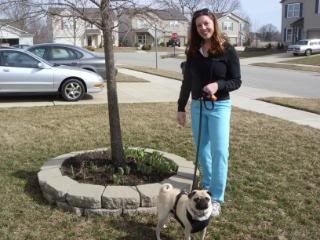 THEN............look what we found in the grass!............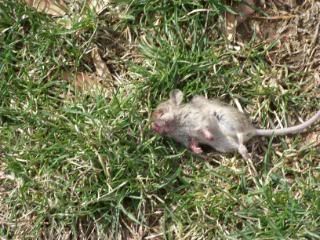 EEEEUUUUWWWWW!
Mom screamed and ran in the house (yeah...every Superwoman has their Kryptonite!) but Holden and I checked it out and he took pics.
We found it very fitting to find this "Stuart Little" dead on the lawn! For those of you that don't know, there was a VERY mean man from the UK that called himself "Stuart Little" that posted some VERY awful things about some of our Pug friends online. We arent' going to bore you with details, but think some of you (Vikki, Dennis, Kelly...) will get a bit of a smile out of this if you think of it in terms of "The Godfather"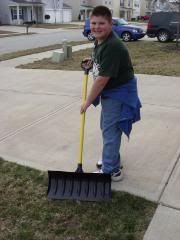 Is it a message? Stuart Little sleeps with the fishes? ;-)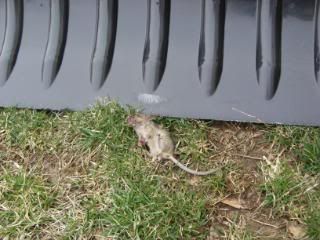 Remember..."it's just business" and **NO mice were harmed on our watch...this was nature in action, so please don't send us hate mail about this poor vermin and his alleged suffering or whatever**
Take that Stuart Little!!!!
There...we feel better!
Have a great day everyone!