Oh my...ANOTHER birthday at our house this past weekend! Yesterday was my stepbrother WILL's birthday!
Mommy and Daddy gave him this card with this goofy pug on it! I am SO glad I look NOTHING like this and am CLEARLY much more refined and sophisticated!
Will turned FIFTEEN and he got lots of cool presents! I even got to help him unwrap them!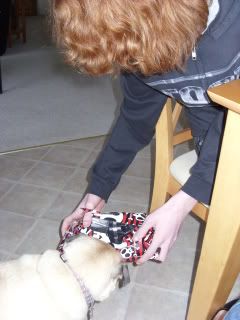 This was a charging station for his PS3 controllers. COOL!
Mom made him a vanilla bean buttermilk cake with cream cheese frosting! Will requested something "vanilla and not too sweet" and mom thought this would be perfect.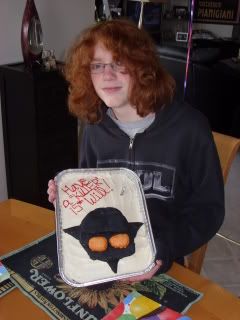 That is a giant sugar cookie on top that is supposed to look like the masked guy from a video game Will loves called "Killzone 3"
Since it WASN'T CHOCOLATE I got to have a tiny taste!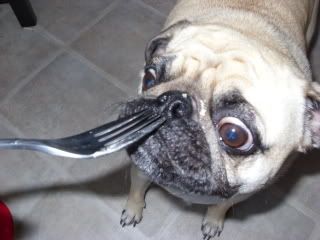 MMMMM...vanilla!
For the entertainment portion of the party, I did my Elvis impersonation!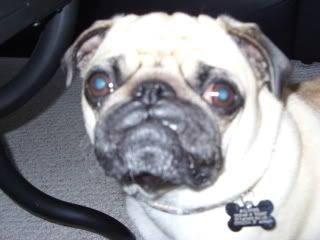 "Bring me a PB Nanner sammich!"
I gave my Will lots of birthday kisses too!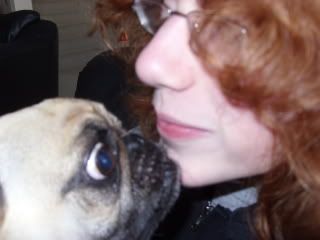 Happy birthday buddy!!!!!
*****Vanilla Bean Buttermilk Cake Recipe*******
This takes some work...but it's worth it....the little flecks of vanilla beans are so pretty!
3 cups flour
1 Tbsp baking powder
1/2 tsp salt
2 whole vanilla beans, split and scraped (it may help to soak them in water first)
1/2 cup room temp. butter
1/2 cup canola oil
1.5 cups sugar
5 large eggs
1 1/4 cups buttermilk
1 Tbsp vanilla extract
Start by creaming the butter and sugar together, add eggs, oil, vanilla bean scrapings and then alternate between dry ingredients and buttermilk until combined.
Bake at 350 and depending on what size pans you use, you'll want to bake 40-45 min for a 9x13 pan, maybe 25-30 for 9 inch rounds, 15-20 for cupcakes (this is just a guideline...every oven is different...my advice it keep checking it and pull it when it's "done")
I decided to use a cream cheese frosting and cut the powdered sugar back because the birthday boy prefers it that way......
1 8 oz package cream cheese (yeah, you can use reduced fat if you want, but DO NOT use fat free...it's just wrong on so many levels)
1 stick soft butter (use real butter)
dash of vanilla
Beat together either using a stand or hand mixer and then add
3 C powdered sugar.
Taste it and if you need/want it sweeter....keep adding powdered sugar. You can thin out with a tiny dribble of milk if you like it softer.
GOOD LUCK!