Hi everyone! My girlyPal Maggie stayed with us about two weeks ago!
She came to the July Pug Meetup with us, but since this was her first one, I wanted to make sure she was looking glamorous! Mom said we could give Maggie a PAWTICURE!!!
I chose her polish for her....it was a toss up between the silver sparkles, cantaloupe orange OR (the ultimate winner...)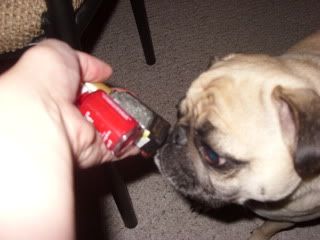 HOOCHIE MAMA RED!!!! (hahahaha)
Daddy held Maggie on his lap while Mom worked on her pawticure...
It was a nice peaceful process and Maggie was totally relaxed...Mom didn't even have to get all yelly with Vietnamese words or anything!!!!!
I waited patiently while Maggie's nails dried...
TA-DAH!!!!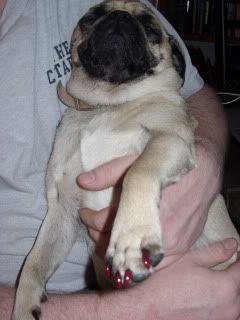 Work it girl!!! Those nails are RED hot!!!!
Happy Friday everyone!