For our next installment of my whirlwind Chicago tour...
THOSE ELGIN PUGS
!
You really should read
THEIR recap
of our visit (and
FOLLOW UP POST
) because it's hilarious and there are some GREAT pics, but I'll share how things went down too...
I was so excited to meet this bunch...and I think they were pretty excited to have someone new to sniff out too!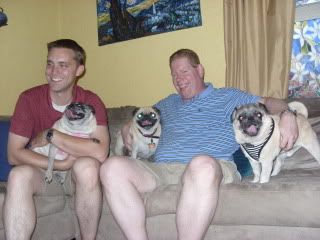 Here is a nice group shot of the daddies...Rob and my daddy (Kevin). The Puggies are Izzy, ME and Anakin Man!
Don't forget Josie!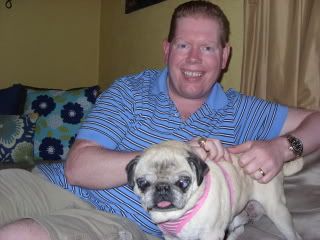 OMG...that FACE!!!! Mom and Dad were plotting to PugNap her!!!
Here's me with the Moms...me on my mom's lap and Katy!
We were having a great time together and Anakin even asked me if I wanted to play a game!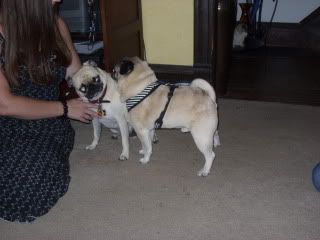 "Pssst...hey BUD....ya wanna play CORNHOLE!?!?"
I thought that was awfully nice of Anakin to suggest a game that I'm very familiar with (being a Hoosier Pug and all!)
"Cornhole? Bring it, dude! Where are the corn bags?"
Ummm....unfortunately we kind of got our wires crossed apparently.
"Anakin...DUDE...you're not in the joint anymore!!! Take off that striped harness and GET OFF ME!"
(Shhhhhhhh....don't anyone tell Pugsley, ok?)
MOVING ON.....
To keep us out of trouble...Mom and Katy provided some goofball entertainment....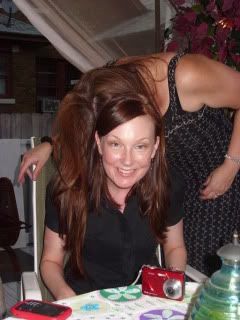 Katy wondered what she would look like with long hair....now we know! HAHAHAA
Katy also read us her BOOK and showed us the great illustrations (available SOON...watch her blog for details!)
We can't wait to order it!!!
Just before we said our goodbyes, they gave me this GINORMOUS bag of goodies!
I don't even know where to START with looking at all of this! There is a cute SUNFLOWER card (since I'm an honorary Sunflower Sista), a TON of cookies, some doggie petit fours, a pink pig/bunny (I named him Wilbur!) and pics of my sweet friends dressed up for Valentines Day and also in their HOTDOG costumes! THANK YOU SO MUCH guys! You spoiled me!!!
We had such a blast meeting all of you and I don't think Mom and Dad will EVER stop laughing at Anakin "climbing aboard"!!! Thanks for inviting us to your beautiful home and spending the evening with us!