Last weekend the peeps had to run a bunch of errands, and I got to go with them!!! I didn't realize that I would be TORTURED (being the poor, starving Pug that I am) along the way!
First...we had to deliver a little "sampler cake" to one of mom's friends, Natalie. Mom is making her Bridal Shower cake and wanted to make sure she liked these flavors...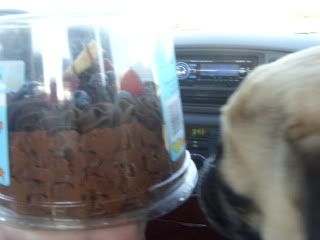 OMG...GIMME A BITE GIMME A BITE GIMME A BITE!!!!!!!! STAAAAAAARVING!!!
**MOM'S NOTE** My basketweave piping got a little "skwershed" when I put the dome/Trader Joe's cookie container on it! OOOPS!
Here I am with Natalie, her daughter Jocelyn and their little doggie, Max...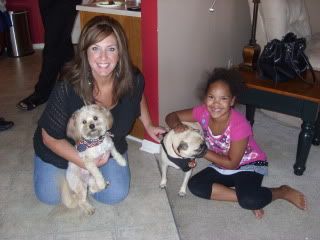 Jocelyn didn't have any food for me either.
After that, we went to the Farmer's Market and got some of THIS...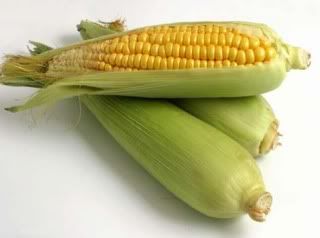 Mom wouldn't let me eat it though....said we had to GRILL it when we got home. Crrrrap. STILL STAAAAAAARVING!!!
We had to stop off HERE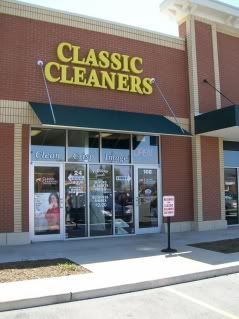 They didn't have ANY food at all! WTF??
THEN, we made one more stop at my favorite store!!!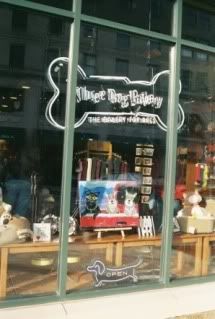 THREE DOG BAKERY!!!!!! YUMMMMY!
Here I am with my new buddy Angela, she gets to WORK at this awesome place!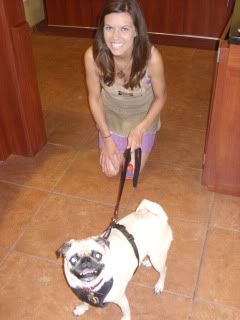 She said I was cute and gave me a cookie! FINALLY...SUSTENANCE!!!!
Mom paid for my BeagleBagels and then we got in the car to go home. Dad had picked himself up a snack...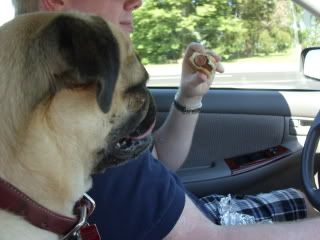 OMG...is that a HOT DOG, Daddy?????
I gave him "the eyes" until he gave me the last bite! CHOMP!
NOM NOM NOM NOM!
Jeez....I had to go almost a WHOLE TWO HOURS with no foodables!!! Can you believe this crap???? Thankfully, I survived and I think I'll be ok though.
Happy Friday everyone!