Dad has been talking about a business trip that he had coming up in Chicago and mentioned to mom that the
hotel where he was booked
was "Pet friendly" and suggested that Mom take me on a little vacation! OMG I KNOW people in Chicago!!!!!
When I came downstairs Monday...THESE were sitting by the back door!
LUGGAGE! The ladybug tag is on Mom's bag...and that big bag with the PUGGY TAG was MINE!!!!!!!
Mom got me all settled into the car for the 3.5 hour drive up to Chi-Town!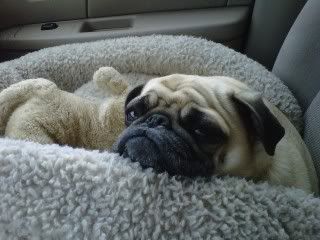 "Kindly wake me when we arrive, driver."
We stopped off at this cool
DAIRY
and mom picked up some fresh milk and CHEESE CURDS! NOM NOM NOM!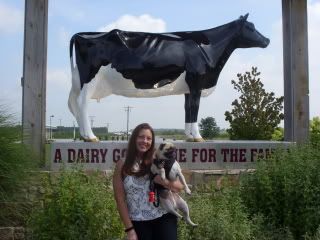 "Thank you cow! Your cheese curds are DIVINE!"
Mom/driver woke me when we got to the hotel and handed me to Daddy (he drove the other car up there)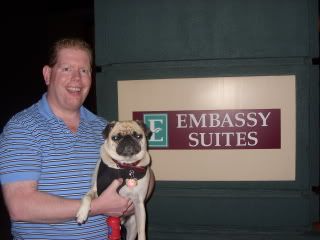 "OOOHHH Embassy Suites! Am I the representative from the Pug Embassy?"
I found the hotel to be QUITE satisfactory...
I enjoyed their fine paw wiping station.
***MOM'S NOTE*** ok, I'm laughing myself stupid at the angle of this mat...we really didn't stay at the "Assy Suites Hotel"!!!
They had this COOL moving room thing with doors that closed when you pressed a button! It was like we were FLYING up over the foodables area!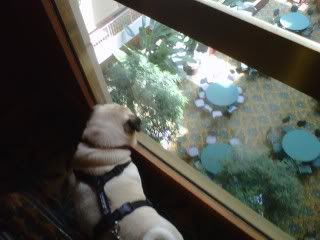 WHEEEEEEEE!
Daddy unlocked our room and let me inside to sniff around...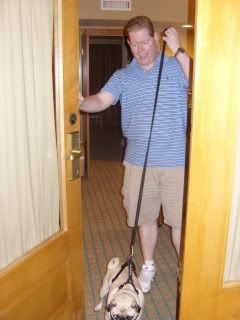 Luckily, there was a big cloud bed, just like ours at home (only ours at home is cloudier...but I suppose this will do!)
Daddy and I checked out the room service menu...
"Pssshhhhh...NO FOIE GRAS??? I suppose a filet mignon will HAVE to do. Tell them to make it RARE and not to be cheap with the Bernaise sauce ok Dad???"
OK....that's enough for PART 1!!!! I had some very important meetings to attend while my assistant (mom) and I were up in the ChicagoLand area and we will devote our next few blog posts to each of these meetings in great detail!
Happy Hump Day everyone!