Ok...back again for part TROIS of my Chicago junket!
After a blissful night in the big hotel cloud bed, breakfast of scrambly eggs and bacon, mom and I got in the car and drove for a short bit....and were greeted with THIS SIGN!
...and lots of hugs from THESE people...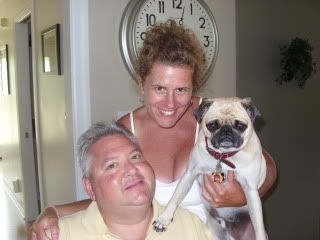 It's
STUBBY
'S PEEPS (Gerry and Michele!)
Of course the
StubMan
himself!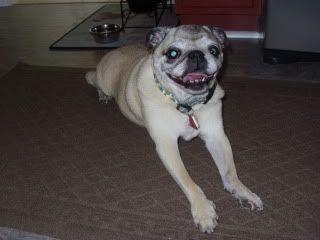 Mom had to MAUL poor
Stubby
....that woman has NO self control!
Another one of our blogger buddies was there to hang with us too....
KAREN
!!!!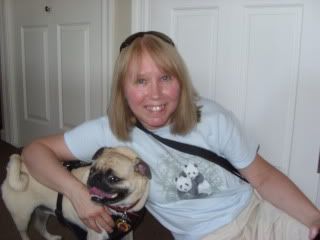 She was all about the booty rubs! LOVED it!
OMG...Aunt Michele had these freaky TURTLES all over her house!!!
Whadda YOU lookin' at????
We spent some time sniffing around in the yard and just exploring and hanging out, but then our PugTummies started to get all loud....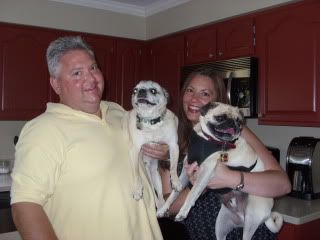 So we begged Stubby's Dad to get us something YUMMY for lunch...
OMG...boy did he come through!!!
I keep hearing Stubby talk about Popeyes all the time, so I was excited to try it for myself...
HOLY HOLY HOLY CRAP!!!!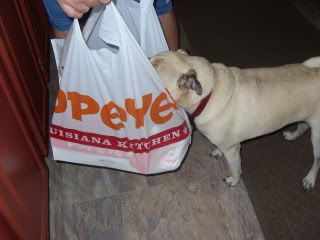 BUST OUT THE CHICKEN, MAN!!!!
Gerry, Man....WHERE'S THE BEEF?....ER....I mean CHICKEN!??!?!?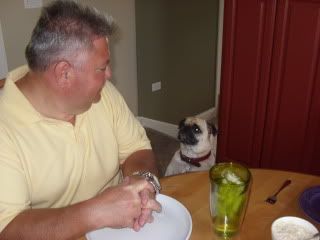 I'm STAAAAAARVING! It's been FOUR WHOLE HOURS since I've eaten and I'm feeling faint!!!
Mom hooked me up with some delicious bird....
Oh my Helen Keller! This is aaaaaaaamazing chicken and fruit salad!!!!
Stubby got a bunch of chicken too!
I'm glad he did...I was starting to feel like a PIG!
We had to walk on the runner to settle our foodables....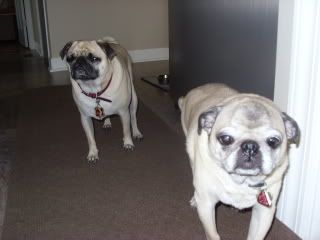 THEN the food coma started to come over us...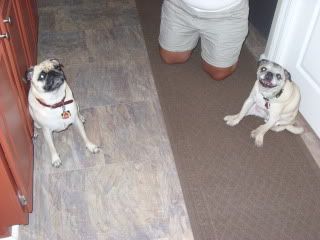 DUDE...let's just sit here and rest while we digest....
Oh MAN...stick a fork in us...we're DONE!!!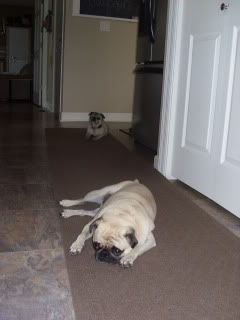 ZZZZZZZZZZZZZZZZZZZZZZZZZZZZZZZZZZZZZZZZZZZZZZZZZZ
It was getting late, and Mom and I had other business meetings that evening, so we posed for one last group shot...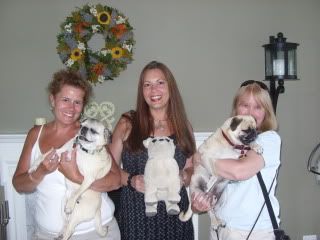 That's
Michele with Stubby
, Mom with Buddy Dog the Stuffie, and
Karen
with ME!
Aunt Michele gave me a kiss goodbye...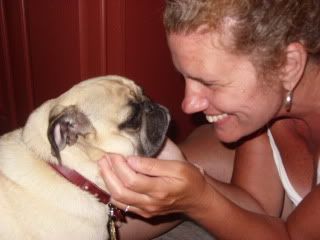 ...and I made her promise to take extra good care of my pal Stubby so we can play together again soon!!!
Thanks so much for spending the afternoon with us guys and THANKS so much for introducing us to Popeyes!!!!! We can't wait to see you again soon!!!