Holden's grade had their EGG DROP projects due this week! They had to design/build some sort of contraption to protect an egg from breaking when dropped. Holden worked SO hard on his project (ALL BY HIMSELF, unlike a good portion of the class...which mom is NOT going to get worked up about now...)
Holden did several test runs here at home while I (Salinger T. Pug, Esq.) supervised the operation....
YAY HOLDEN!!!!!
He tested a few more times here at home and then mom safely delivered Holden and his Egg Cradler 3000 to school for the big day...
GUESS what happened when the actual Egg Drop happened at school???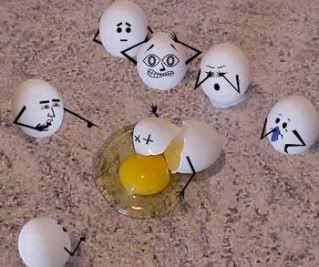 RUT ROH!
Holden was SO bummed out because he thought for SURE after all that testing, tweaking and more testing that his Egg Cradler 3000 had enough shock absorption to withstand the force of the drop. Bummer dude! I was waiting there to either celebrate or comfort him when he got home from school (both are the same really...I was just excited to see him!)
Scrambled eggs, or not...we're still SO proud of you Holden and we know that you're a genius!!! ;-)
Happy Friday everyone!!!!