Well, the parents have subjected me to nightmare inducing terror yet AGAIN...
Last night, they leashed me up and said we were going to visit my man Pugsley and his sister Lola. Of course I was allll excited, until we got down there and THIS was waiting for me at the door!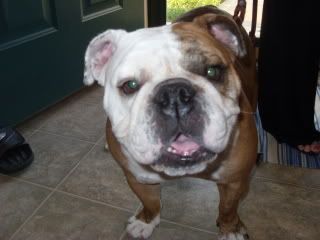 HOLY HOLY HOLY CRAP!!!
I'm OUTTA here!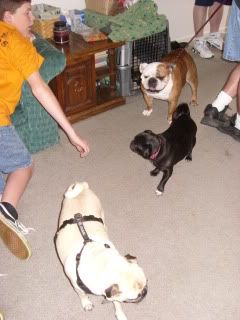 You stall her, Lola!!!
Mom said this giant overgrown growly Pug looking thing was named DELILA and she's an English Bulldog! She's Pugsley and Lola's cousin and staying with them for a few days. OMG! I was worried that Pugsley had been grossly overfed!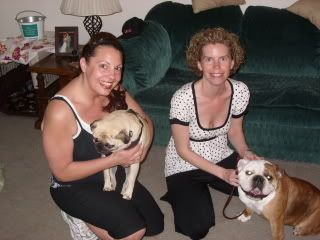 I decided that if I stayed in Mom's arms and didn't look at that hoss Delila, then she wasn't actually there and it was ok.
Jeez...look at Dad getting all snuggly with Delila...(that's Pugsley's head peeking up in the corner!)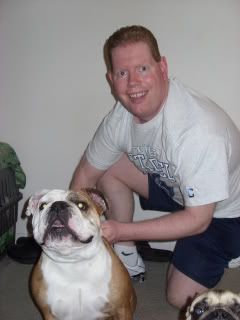 Dad LOVES Bulldogs because he went to
The Citadel
for college and their mascot was the bulldog. He even has one tattooed on his bicep!
FINALLY we got the HAAAIL out of there and back home where no large overgrown growly smushfaces were licking their chops to get a bite of some Pug Dim Sum....
AAAAAAAAAHHHHHHHHHHHHHHHHHHHH! WHAT THE???? MOOOOOOOOOM!
NOT. COOL. MOM!!!!
That stuffed bulldog looks JUST like Delila! I'm going recover from my heart attack over HERE....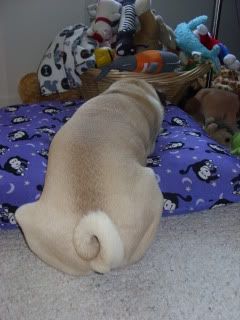 ...and give YOU the BROWN EYE TREATMENT for the rest of the day!!!!!!