(flashback to Saturday afternoon)
Hmmmm....the house is all straightened up, stuff is cooking, candles are lit and there's BRUSCHETTA and a plate of liver Puggy muffins on the table? That means COMPANY is coming!!!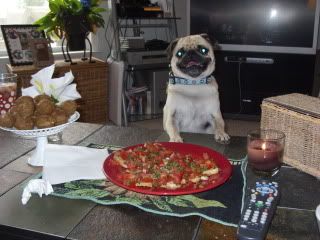 I can totally taste test this for you to make sure it has enough basil...
Who could be coming over????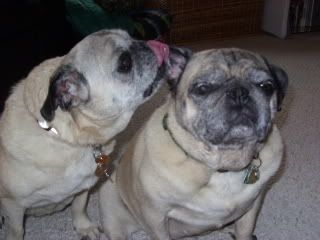 Hanklin and Molly O'Mally
!!!!!
Of course their peeps came too...here I am snuggling up to Scott
"RUB. MAH. BELLEH!"
We Puggies surrounded Aunt Sarah until she gave us foodables
(cue the music from JAWS!) "Come on...give it up lady! You're surrounded!"
The hoomans ate some warm cow for dinner, followed by THIS...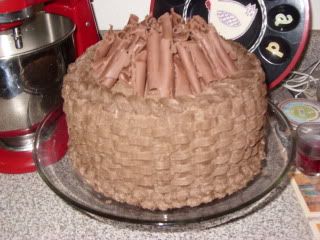 The "Are You Freakin' Kidding Me" Chocolate cake. I think this should be renamed the "NOT FOR PUGGIES SO WHY BOTHER?" cake.
Mom made chicken liver muffins for us 4 leggers....Aunt Sarah fed them to us when we did nice "sits".
Daddy tried to expand Hank's beer horizons and offered him up some REAL beer (not that PBR swill)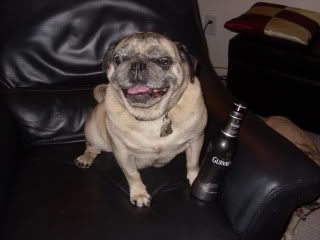 Hank said "Aw HAIL...I can't be caught drinkin' none of this QUARE S#*T!!!!!"
"I'm jess gonna spin around in this here chair."
"Ugh...I'm feelin' a little queasy, I tell you what!"
"I've gotta get this here monkey off my back!!!!"
Here's ME telling Hank that he's a big ol HOT MESS! Hahahaha
"Dude...seriously?!?"
It was getting late and the Strains had to go home...but I was having so much fun with Hank and Molly that I tried to go WITH them!
"DRIVE, MY GOOD SIR, DRIVE!!!!"
Thanks for coming over Hank and Molly (and for bringing your peeps!).