Ok, some of you may know that mom LOVES cooking shows...even when they star people that annoy her to the point of wanting to jam a meat thermometer in her ear and purposely buy BAD vanilla. EXAMPLE...The Barefoot Contessa
The nervous laughter, snooty attitude and attempt after failed attempt to kill her husband and friends with dishes laced with POUNDS of butter...UGH!
BUT....just like a trainwreck...mom can't seem to look away!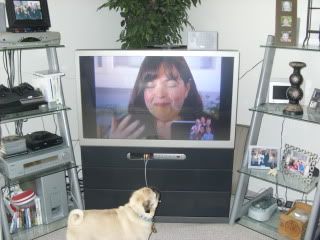 "Aw crap...not THIS crazy lady again!!!"
"TURN IT OFF!!!!"
We had to laugh when we found THIS gem on
www.foodnetworkhumor.com
Hahahaha! I'll be this food is FAAABULOUS and right up my alley! (make sure you biggify to read the small print!)
OOHHH...WHILE WE HAVE YOUR ATTENTION.....Please jump on over and visit my buddy
Anakin the Pug
who has unfortunately had to spend some quality time with his VET over the last week or so. Poor baby was sneaky and got into some chicken bones and had to have them removed from his tummy...THEN had to be rushed back in yesterday because he had a bad reaction to his incision and had to have MORE surgery! The kick in the head about the whole thing was that YESTERDAY WAS HIS BIRTHDAY!!!! We think a birthday redo is in order...don't you agree? The good news is that he came home last night and the pic on his blog shows him resting comfortably.
Here is our buddy Anakin Man with his new birthday HAT!
Feel better soon, dude!!!!
Happy Thursday everyone!