Happy Mothers Day everyone out there....whether your kids have 2 legs or 4 legs!!! Normally mom thinks "Hallmark" days like this are silly...but LOOK what sweet Holden woke her up with this morning!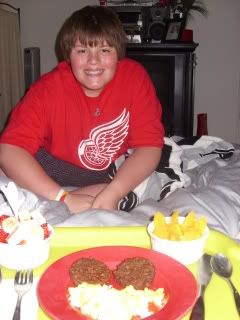 YUM...to the left we have a strawberry and banana Mueslix parfait with an "I Love You" sign on a toothpick. In the center we have soysage and cheesy scrambled eggs arranged into a smiley face. On the right we have cottage cheese and peaches. Not pictured is some hot mocha/coffee (on the nightstand).
HEY....don't forget me! I (Salinger) helped!!!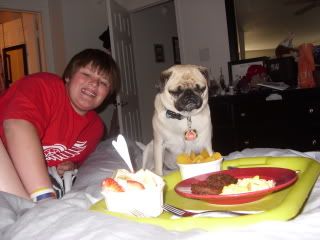 So Holden...how in the HECK is mom going to eat all of this herself???
We'd better help her!!!! Let's get to WORK!
Nom nom nom!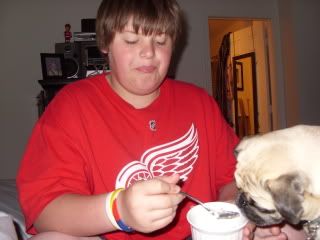 YUMMMM!
Good teamwork dude!!!
Boy...mom is SOOOO lucky to have both of us!!!!
Awwww!
Ok...all this cooking and eating is exhausting!!!! Time for a nap in the Big Cloud Bed!
ZZZZZZZZZZZZZZZZZZZZZZZ!!!!
*****Mom's note******
I also want to wish a very very very Happy Hallmark Holiday to my OWN mom (a.k.a. "Mimi)!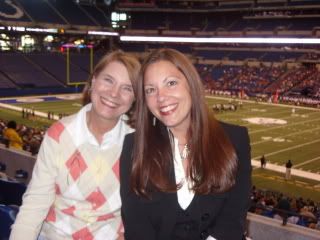 I love you so much and hope you have a great Mother's Day!!!! Do something FUN today!