Mom and I took Mimi into the backyard to show her all of the cool blooming things going on. Mom is really proud that she hasn't killed her Lilacs (yet).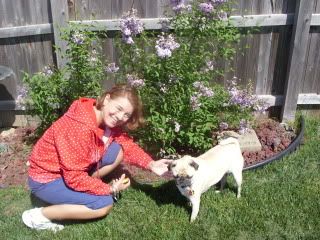 "Mmmmm...Lilacs!!!!"
While Mimi was admiring the Burning bushes, we noticed that she started "picking" at something...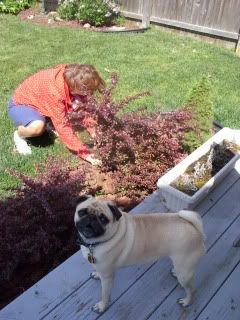 "What the heck, Mimi?"
Mimi then confessed that while she LOVED living in Arizona and having gravel and cactus in her yard instead of grass and plants....she really missed WEEDING and said that she found it THERAPUTIC! (WTF?). She then ASKED mom if she could keep weeding the back flowerbeds!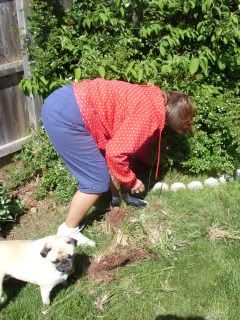 "Ummm...Mom? Is Mimi for REAL?"
Mom told her to "knock herself out" and even gave her a trash bag so she could continue her "weeding therapy"...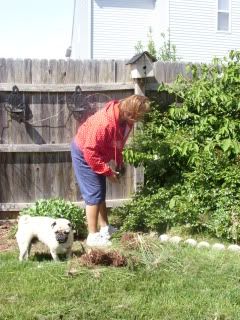 Wow....if Mimi thinks that weeding is THERAPY...she's going to be in TIP TOP mental shape when she goes home!!!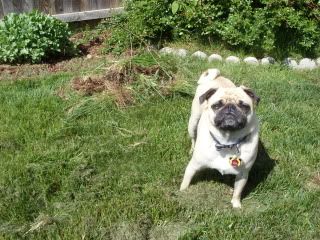 Just LOOK at this pile of pent up angst and issues!!!!
Mimi even continued her "Therapy sessions" into the NIGHT!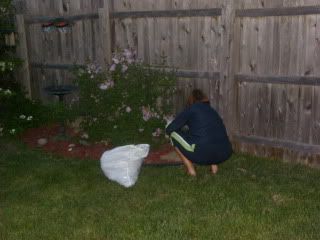 Wow...the things we do for mental health!
I went outside to make sure Mimi could find her way back to the house in the dark.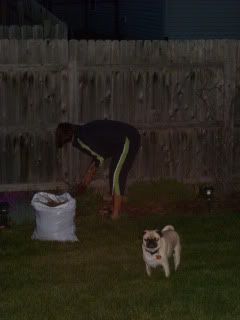 We aren't sure how this "Weed Therapy" works...but Mimi seemed to really like it!
If anyone else would like a session of Weed Therapy...just let us know! We're sure we'll have PLENTY more in a week or so!!!!!