Hi everyone! I hope you all had a WONDERFUL Christmas and got to enjoy some downtime like we've been doing. Mommy calls it "L.O.A. time" (Laying On @$$) and we've all been doing LOTS of it!
As promised, we have some more "civilized" pics to share with you. Our family had our Christmas in two installments...one with Will and Lizz and the other with just Mom, dad and Holden. Here we go...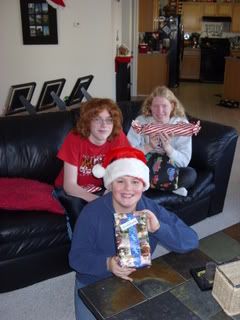 Here is a nice pic of Will, Lizz and Holden opening up some nice presents from Mimi and Pa (from Arizona!)
Mommy (aka Laura to most of you) and Holden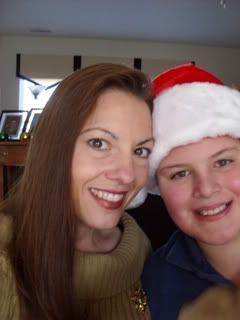 Self portrait...CHEEEEEESE!
ME with Holden...playing Christmas Kissy Face!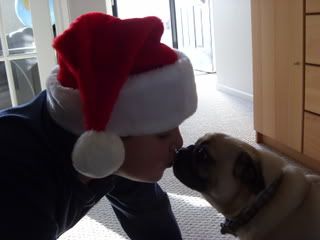 Here is Mommy helping me open a present....what can it be???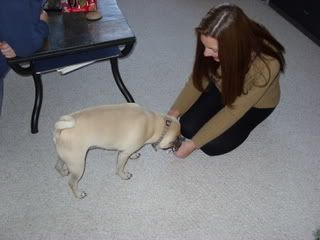 Whatever it is...it's time for mom to pick up a new box of hair color! Ugh...those GRAYS!
It's a new BALL! OMG...it TALKS!!!!!!!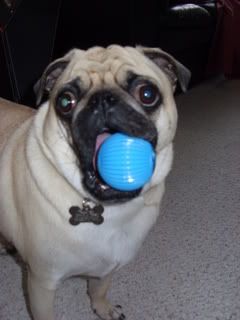 It says funny things like "Whoa big doggie!"
I also got a new coat! Check me out...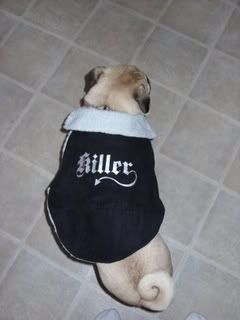 Mom said I could use some "Butching-up"...does this work?
The kids (the 3 young ones and the 44 year old) were SO excited to get a Playstation 3 gaming system. It was hugs all around!!!
NOW the fun part...daddy had to rearrange all the electronic stuff to hook the system up to the TV. Can you see me supervising this debacle?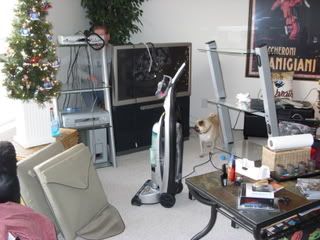 Oh My Helen Keller! What a MESSSSSSSSS!
OK...skip ahead to our Christmas with Mom, Dad and Holden. Santa came a day early (he even delivered our presents to the loading dock of Dad's work building downtown!). Holden spent Christmas Day and these few days afterward in Ohio with his dad...so we rearranged the calendar this year a bit.
I had goodies in my stocking!!!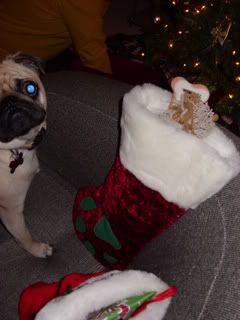 Mommy helped me open them...
I got some new mint chewies and a big ropey bone toy! WHOOHOO!
This was the present I got for Holden...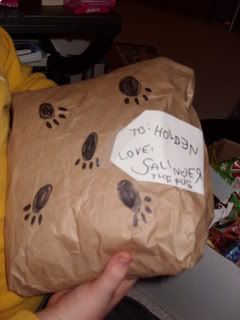 Can you tell I wrapped it and filled out the tag with HARDLY any help at all!?
SURPRISE!!!!
NEW SOCKS! Since I eat his socks and play tug with them...I figured it was the LEAST I could do!
Speaking of surprises...Holden got a BIG one this year!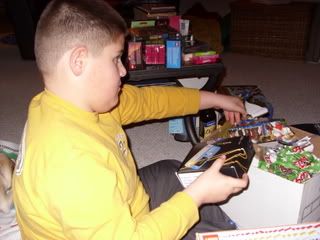 Mom and dad always said he didn't need his own phone and that they MIGHT think about it when he's in middle school.....
SURPRISE Holden! He got his own Rumor (which is waaaaaaay cooler than mom's razr phone!) and has been texting texting texting like a pro!
We hope all of you out there in Bloggerland had a safe, happy and wonderful Christmas! We can't wait to read all of your updates and hear all of your new stories in 2009!!!
OH...how could we forget to send out a BIG CONGRATULATIONS to Kelly and Brian (from Pugs and Bugg). They are ENGAGED to be married! YAY!!!