(DRUM ROLL PLEASE.......)
PREEEEEE-SENTING, HOLDEN'S 2008 GINGERBREAD CHATEAU!!!!!!!!!!!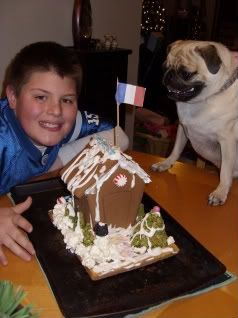 Ta-dah! It's Chateau LeClair! (haha...mom's maiden name). Holden just completed a unit at school about French forts and even built one out of popsicle sticks, so the French theme was fresh in his mind.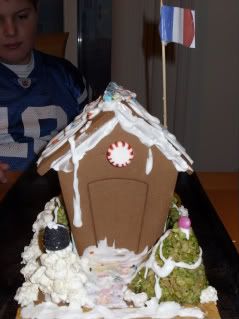 Here is the front view. Notice the Smarties stamped concrete front walkway and the Rice Krispie Treat trees/shrubs! Since this is a French Chateau, the peppermint "cartouche" above the front door was a very nice touch!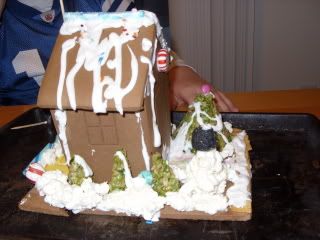 Here is a side view of the Rice Krispie shrubbery. The marshmallow snowdrifts are SO realistic! Check out the marshmallow snowman with his black gumdrop hat!
This is the back view of the Chateau. The lemon Starburst patio and blueberry candy cane rail is a great place to entertain and sip fine champagne. Holden said that the black jellybean figure is a scarecrow (clearly, he's right!) but Kevin (the history buff of the family) said that it was a very authentic Frenchman with his arms up in surrender. Hmmm....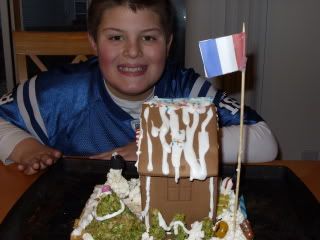 Here is the right side view. The authentic candy rocks at the base of the flagpole were mined from nearby cupboards!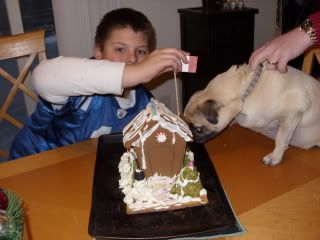 All Salinger has to say is "MON DIEU! CAN WE EAT IT NOW???????????"
Great job Holden and great job to the project foreman, Salinger. The Chateau looks fabulous!
(Note to parents of human children...this is a great project to keep kids busy for almost an ENTIRE snow day! It was GREAT! ;-)