Happy Hump Day everyone!
Mom realized there were MORE pics from our Snowy Sunday (daddy took them!) so she decided to do a sequel to our last post.
SNOWY SUNDAY PART DEUX (you have to say it in a really floofie-floo fancy voice to get the full effect...)
SO...when we eneded our last post, mom was getting ready to go out and play in the snow. She apparently was too excited to even bother getting dressed because here she is in her PJs in the FRONT YARD!
I asked her "Where do you think we are...WAL MART?" but she didn't listen. Sheesh.
Mom said the snow was "good packing" so I had to test it out and see what she meant.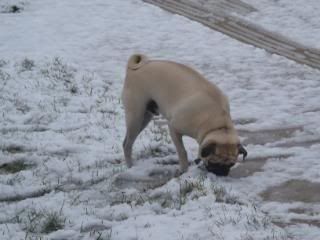 HEY...it's sticking to my nose!!!!
Holden was working on the base of the snowman. I helped out with the engineering and design concept...
Then I helped with the rolling process.
VOILA!!!!!!
It's a snow dude!
Mom and I went inside to warm up and Holden stayed outside and got into a snowball war with the neighbors across the street. He dragged all this scrap wood and crap out of the garage and set up a FORT in the front yard! The snowball war THEN evolved into Jai Alai with snowshovels and then they started chucking ORANGES back and forth!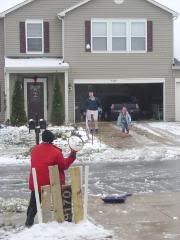 Crazy people!
I am a GOOD boy and refuse to participate in such jackassery!!!!
Also...another good update...my pinched nerve seems to be all better. I'm finished with my meds and seem to be feeling a lot better. Mom is still really paranoid and making me take it easy for a little while longer. This is good timing because mom is having her "tummy tucked" tomorrow (she is SO excited about it!). I'm going to have to be really good and not jump up on her while she is recovering. Maybe we can get daddy to help me blog while mommy is recovering!!! Stay tuned!
Have a great day everyone!