WHAT is it about Christmas that makes kids and dogs LOSE THEIR MINDS? This was the scene in our house the other night....
Yes...Holden appearing out of nowhere in his Christmas Bulldog PJ bottoms, Big Kahuna fishing Tshirt, Santa hat and SWIM GOGGLES???? (WTF?)
I, Salinger The Pug and Protector of my domicile, of course didn't recognize this bizarre frogman Yultide creature, so I ATTACKED him and wrestled him to the ground...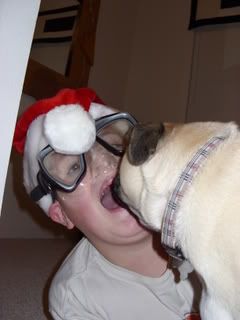 ...and subdued him with a giant Kissy Face Attack!
He WON'T be doing that again any time soon....I STOLE his Santa hat because I HAAAAATE IT!
Grrrrrrrrrrrrr.....@#$%&* SANTA HAT!!!!!!!!
After I realized the intruder was HOLDEN...I gave him another Kissy Face attack to tell him I forgave him!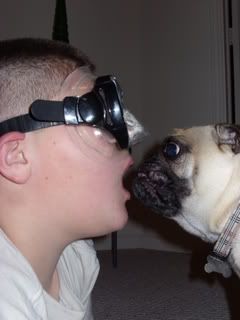 HAHAHA...where's the Santa hat NOW, Brother?????
We're pretty sure things will calm back down here and we'll be back to post some much more civilized pictures of our Christmas festivities!
MERRY CHRISTMAS TO ALL! May your homes be full of love, laughter, yummies and FREE OF YULETIDE FROGMEN!!!!!!!!!!!