The Wedding Weekend fun continues!! Saturday morning was chilly and RAINY, but it didn't matter because it was time for the Indy Monthly Pug Meetup in the park!!! Pugsley was home catching up on some sleep so Mom took me down to the park a bit early....and LOOK who was there waiting for us!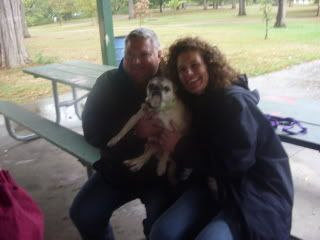 My pal
STUBBY
with his awesome parents, Gerry and Michele!!!! Can you believe they drove down from Chicago that morning just to hang with us for the day?
Within a few minutes, Peta, Honey (not pictured)and Agent Awesome were there with
Gen and The Foo
!!! More of our fave Chicago people!
Look at sweet Foo! Her eyeball is MUCH better now!
Then it was like the Pug Blogger Universe exploded...soon EVERYONE was there!!! Check out all the hugs and snuggles I got!
Here's me with
Jess, Clover and Chewy's Mom
(she came down from OTTAWA!).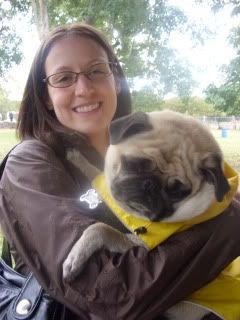 "Pssst...next time bring some Poutine for me and Mr. Chewy for Mom!!!" (hahaha!)
I got hugs from
Pearl's Momma KELLY
from Oklahoma!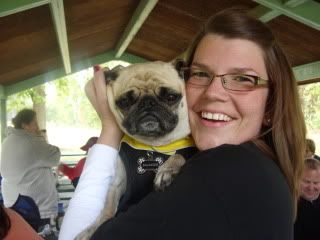 "Where the heck is Pearl? Is she meeting us here with a stolen chicken delivery truck???"
I had a discussion with
PUNCHY
and her sweet daughter, C (which we learned stands for COURTNEY!) They were here from New York!
"OK lady, we need to have a SERIOUS discussion about those
red drop seat jammies
you made for me!"
The Elgin Pugs
were there too!!! Here's Sweet Miss Josie being held by her Daddy, Rob...
Ooooh Josie! You're upside down!!! Hahahahaa!
Here's Mom mauling Anakin Man...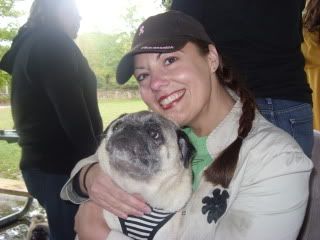 Here's
Aunt Sarah
holding Josie like a baby!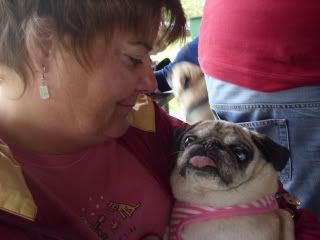 Here's a great pic of a beautiful moment of some sparks flying between two senior citizen Puggies....
Stubby
and
O'Mally
discovered that they both love the Rockford Files, butterscotch candies, the Early Bird special at MCL Cafeteria and they both hate when damn neighbor kids walk across their lawns!!!! It was magical!
Here's a great pic of the two Kellys (a.k.a. Twinners)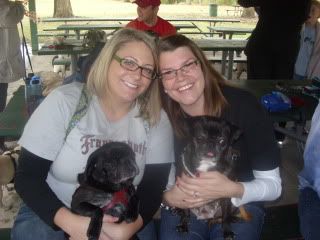 Indy's own
Sophie, Dixie and Harley's mom Kelly
WITH Kelly (
Pearl's Mom
) from Oklahoma!
They are just as adorable together in person as you can imagine!!!!
Mom held
Sophie
for a while...
and didn't have to work too hard to master her "look"
Here's
Kelly
having a chat with
Apollo
!
"Do you like gladiator movies?"
Here's Cindy getting "pugged" by her
Brutus and Yoda
!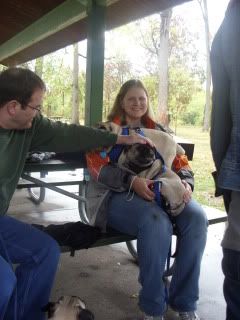 Claude's Daddy, Mark is helping her keep everything balanced!
It was REALLY rainy and sloppy outside...thankfully we were under the pavillion, but Puggy paws were still pretty muddy!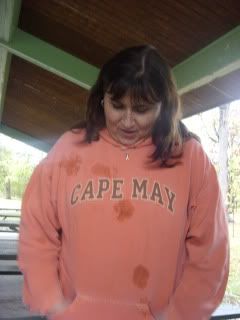 Punchy's
shirt looked like a Puggy ROADMAP!!!
Ok, Mom....time to go! It's COLD and I feel STOOOOPID in this raincoat!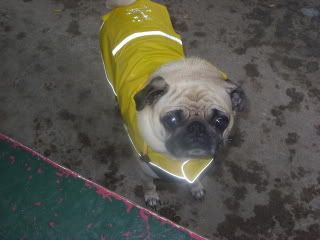 Before we go...we HAVE to give a "Get well!" shout out and big hugs to
Heather, Harry and Lulu in Alabama!
They were planning on coming up and staying with us for the big weekend, but poor Heather got yucky sick so she stayed home in bed while Nurse Harry and Lulu took care of her! FEEL BETTER and we'll get together soon!
Stay tuned for MORE pics tomorrow of the POST MEETUP party with
The Pug Posse
!!!!
Happy Tuesday!