Friday night was the big wedding night between
Pugsley
and I! We were nervous, but we had so many great friends and family around us to keep our nerves in check! Here are a BUNCH of our photos from our wedding album!
Here's the wedding Pupcake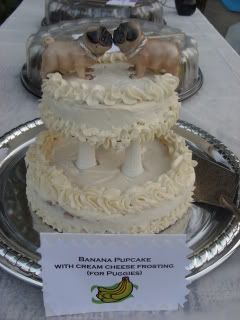 Ok, let's get this show on the road so we can have CAKE!!!!
Here's the favor table...KISSES from Salinger and Pugsley (Hershey kisses tied up in rainbow colors!)
Instead of a guest book...we had AUTOGRAPH DOGS!
Here's the good
Reverend Sarah (Hank and Molly's Mom
!)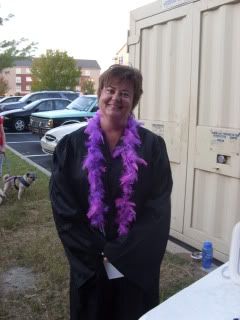 She's a REAL minister (according to the internet!) so it was all as legit as a gay pug wedding in Indiana can be!
Here's a nice shot of the wedding party
My brother Holden holding my Best Man
HANK
Mom holding ME
Reverend
Sarah
Heather holding
Pugsley
Justin (Pugsley's brother) holding bridesmaid
Lola
Here we are exchanging vows in front of our Puggy friends, families and Rev. Sarah!
We promised to love, honor, lick and sniff each other as long as we both shall live!
Here are some videos that are kind of hard to see (it was getting dark!) but you can hear most of what went on!
and...
Rev. Sarah pronounced us "Pug and Pug" and told us that "you may kiss your Pug!"
SMOOOCH!
Awwww
PARTY TIME!!!!
Our guest list read like PugBlogger ROYALTY! Biggify to see everyone named! Do you recognize
Punchy from NY who blogs Pug Posessed
(and her daughter C?),
Jess from Sunshine and Mud Puddles
from OTTAWA, CANADA? How about
Kelly, Pearl's Momma from Oklahoma
!?
Peta and Agent Awesome brought Gen and the Foo down from Chicago
! Most of the rest of the Indy Blogger crew is in the pic too and then few more surprise guests made it into town later on, so stay tuned for a continuation and MORE surprises tomorrow!
Now it was time to CHOW DOWN!
Mom got a little cupcake happy for the hoomans and made carrot cake cuppycakes, cookies and cream cuppycakes and maple bacon cuppycakes!!!! Pugsley's family set up a bar of all sorts of yummy drinks on the other side of the picnic table too!
Time to cut the wedding cake!
Sharing a taste....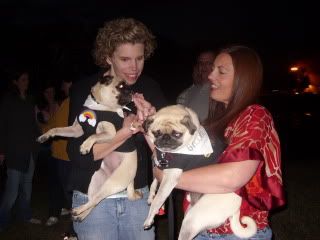 Here I am with my Best Man, Hank....he pulled me aside and we had a nice PBR toast to celebrate!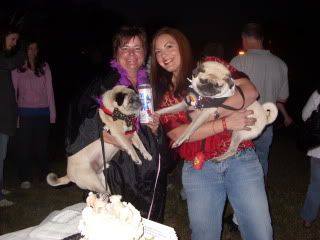 Cheers!!!
The night wound down and we had to rest up for MORE fun with MORE of our blogger buddies! Stay tuned for our post tomorrow!!!!
Thanks for spending the evening with us and sharing the PugLove everyone!!!!