Last week (before school started) we had some special visitors! You may remember last year that Mommy's BFF (since 1981!) and her family came down to visit us and I got to play with the girls!
CLICK HERE
to refresh your memory...we'll wait
**Jeopardy music plays**
So this blog is about THE RETURN OF THE EDWARDS FAMILY!!!!
I love playing with little kids, especially with Olivia and Elyse! Here I am with Olivia (age 6)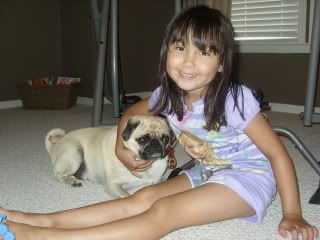 Awwww!
I even got to play "dentist" with her!
Keep up the good work with your brushing, Olivia!
Lysie (age 3) decided that I needed some kisses too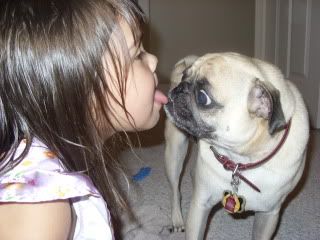 Wow...she's an expert at KissyFace! She might even be part PUG!
The girls and mommy had "Girly Beauty Night" and had SPA night! I got to snoopervise the bubble bath...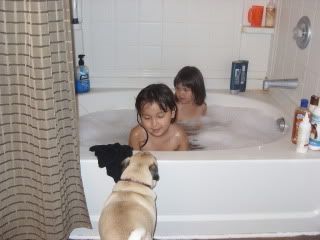 The girls wanted to paint my nails PINK, but I had to draw the line. I may be into dudes, but I'm not a cross dresser!!!!
I had to stay home while everyone went to the Muncie Childrens Museum, but here is a really cute pic of all three little humans outside the museum with the kid sculpture!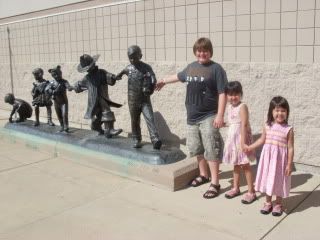 Aunt Susan and Uncle Tom gave Holden that cool Beatles T-shirt! Thanks guys!!!
Here's one last pic...Holden had to go to football practice and here are the girls CHEERING for him!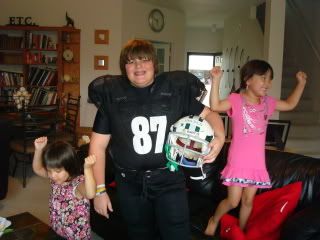 "HOLDEN HOLDEN HE'S OUR MAN!!!"
Thanks for visiting us Edwards Family! We know that Livvy and Lysie are big fans of my bloggie and read it every day, so we hope they liked seeing their cute pics here! **blows kisses from Indiana**
Happy Friday everyone (WHOOHOO FRIDAY!)