It's taken me a few days to recover from the big CRAP sale and all the excitement that went with it, but I'm ready to tell you allllllllll about it now!
First...Saturday morning we were all up early and got everything set out for the big crap (er...I mean garage) sale. I helped Daddy with product placement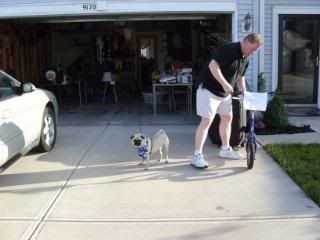 Bring the scooter out here, Daddy!!!!
It was nice and cool out in the morning, so I stood outside looking extra cute in my Colts bandana.
BIG sale...today only! Get all the crap you want right here!!!!!
A few people came by and bought things, but then it started to get warm outside. Mommy brought out my purple monkey pillow and a butcher bone so I could laze on the cool floor and check everything out.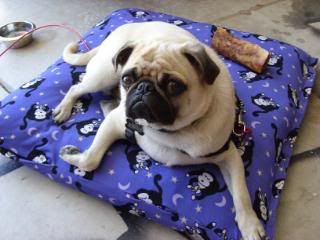 Maaaaaan...selling crap is hard work!
I was just starting to take a nap when Nancy (my first human mommy...she's my Pug Mom Gertie's mommy and also mommy to my Pug Brother Bert) came to see what kind of crap we had for sale! I remembered her and how she took such good care of me when I was a tiny baby, so I gave her lots of kisses!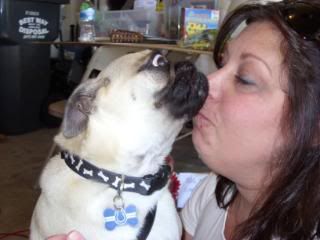 KISSKISSKISSKISSKISSKISS
Mommy had to take her next door to see the cute baby Basset Hound named Beau that is next door! He's SO little, and he has the saddest face! This is me with Beau and my first human sister Gracie!
Doesn't Beau look exactly like the Hush Puppy dog on the shoes???
We came back to find my brother Holden on the lawn demonstrating what a great deal the innertube was ($5....but let's deal!!!!)
Salesman of the decade!!!!!!!!!
SO....I was just settling down for my nap that I didn't get to before, when my buddy PUGSLEY (from the birthday party) came by with his mom and brother!!!!!
Pugsley looks like he's FLYING!
We hung out for a while and ran around in the backyard and made ourselves totally snorty and exhausted. We drank about a gallon of ice water and then did some goodbye kisses.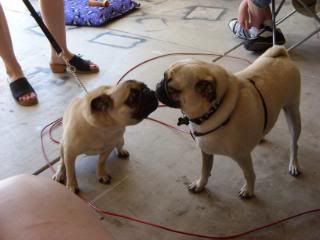 LOOK AWAY, SOPHIE!!!
THEN I finally got my nap....in my favorite place......mommy's arms!!!
ZZZZZZZZZZZZZZZZZZ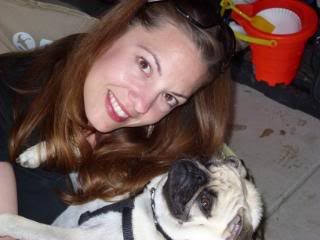 Ahhhhhhhhhhhhh!!!!!!!!!
So in between all this fun, we really did sell a bunch of our crap that we didn't need anymore. There was some stuff left that we took to Goodwill yesterday, but not too much. Daddy said he was just as happy to have a nice receipt for tax deductions. He thinks that I should be a tax deduction too, but he's probably have to go to a place called "The Pokey" if he tried that!